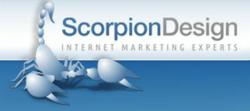 New York, NY (PRWEB) March 26, 2013
Internet marketing and website design company, Scorpion Design, Inc., is proud to announce that they have won the award for Best Marketing Website in the Internet Advertising Competition (IAC) for the work on their very own website: http://www.scorpiondesign.com. When they set out to re-design their website last year, they did it with the clear purpose of showcasing their talent and ability. They had just won the 2012 Internet Advertising Competition Award for Best Legal Website which honored their work with Houston-based law firm Arnold & Itkin, LLP, and the company truly wanted to push the boundaries of what was possible.
"At Scorpion, we know the key to success is never accepting the status quo," said CEO and founder Rustin Kretz. "That's why we've truly adopted an innovative spirit; our team is made up of some of the brightest minds in the industry. As a team, we are always looking for the next best thing – whether it is for our clients or for ourselves. When we pair this excitement for what we can accomplish with a true passion for excellence, we have a winning formula; there's no doubt that's the reason for our continued growth."
Scorpion is never interested in simply re-creating; instead, they look to truly innovate. By using their own website as a testing ground, they were able to try out new bleeding edge technology, push the boundaries with their design work, and pull together the best of what they have to offer clients. Throughout the years, their team of Internet marketing experts has been honored numerous times for their work. For example, in 2012 alone, they not only won the IAC award for Best Legal Website, but also the WebAward for Best Legal Website, the WebAward for Legal Standard of Excellence, as well as the WebAward for Outstanding Website.
"The best part about winning an award like this is how excited and proud the entire team gets when I send out the company-wide email announcing the award," said Kretz. "Getting to see first-hand how much everyone cares about what we're accomplishing, and how passionate they are about setting the standard for excellence within the industry, is both awe-inspiring and motivating. I have no doubt that we're going to continue pushing the envelope as we move forward; we look forward to what we can accomplish next."
The IAC is produced by The Web Marketing Association (WMA), which was founded in Boston in 1997 as a way to help establish and set a standard for high-quality development on the World Wide Web. Two years later, the WMA chose to take things one step further by creating an award program which would honor those who not only met this standard, but exceeded it in all avenues of online advertising – allowing companies and individuals to submit work that could be judged against the best work of others within their industry.
Currently, the IAC represents more than 80 different industries in 14 different online formats (such as online ad, website, mobile application, online video, and more). All entries within a specific category compete directly against other websites within that industry and are judged on specific criteria, including: creativity, innovation, impact, design, copywriting, use of the medium, and memorability. IAC awards are then given to industries which are rated as the "best" within each industry, with other honorable mentions achieving an Outstanding Advertising Award. Within each advertising format, a Best of Show award is given to one.
Scorpion Design, Inc. is a web design and Internet marketing company that serves clients nationwide. By focusing on lawyers and law firms, they have been able to build up a reputation for not only constantly thinking outside of the box, but also helping to set standards industry-wide. This has won them numerous awards and even landed them twice on the Inc. 5000 list for fastest growing companies in America due to their own personal growth. For those who are interested in taking their business to the next level, and for those interested in knowing how Scorpion's team of professionals can help, do not hesitate to contact them today. Learn about the Scorpion difference by talking to their team of Internet marketing experts; just give them a call at 866-332-3203 or visit them at their own award-winning website: http://www.scorpiondesign.com.