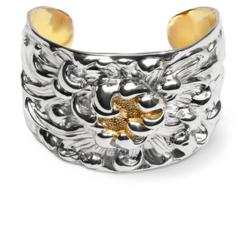 The woman who loves repousse' jewelry has three attributes: confidence, taste and passion for elegance.
Baltimore, MD (PRWEB) March 28, 2013
Carolyn O'Keefe, founder of American Estate Jewelry in partnership with Galmer Ltd., has announced that the company will now be known as Repousse' Jewelry by Galmer. The luxury silver jewelry line was launched in July 2011.
Michael Izrael Galmer and Carolyn O'Keefe are partners in the enterprise. Galmer's extraordinary career includes twenty years of commissioned pieces for Tiffany & Co. and a vast collection of tabletop pieces he designed for Galmer Fine Silver. Carolyn O'Keefe is an experienced luxury marketing professional, having represented DeBeers Consolidated Mines, Georgette Klinger luxury skincare and PinnacleCare healthcare advisory. The two partners formed an alliance to introduce Galmer's repousse' jewelry creations under the name American Estate Jewelry.
The partners enacted the name change to enable consumers to understand immediately the distinctive offering of the company. Very few artists are able to perform the repousse' silver crafting technique and none more brilliantly than Michael Izrael Galmer. Galmer has created proprietary tools to create the pieces which, due to the rare repousse' method (meaning "pushed from the back"), have a lavish sculptural quality and highly detailed surface. The company will be most often referenced as simply Repousse' Jewelry and its web address is http://www.repoussejewelry.com.
American Estate will still be the official title of the company founded by O'Keefe. The original name was selected to convey the heirloom quality of new works of enduring worth such as Galmer's handcrafted pieces. The name was selected to underscore the classic American silver tradition, not only its robust industry in turn-of-the-century America but also its gifting tradition.
Decades ago and even now, American families collected and passed on cherished estate pieces from generation to generation. Many of Repousse' Jewelry's buyers identified with the "American Estate" message that the jewelry would not only be loved and wearable now, it would be cherished forever. The company's "forever cuff" is frequently purchased as a milestone gift for a daughter to eventually pass along to her daughter over generations. According to O'Keefe, "Occasions such as graduations, key birthdays and the birth of a child prompt a 'forever cuff' purchase."
As the company grew its distribution, customers wanted to know more about the creation of the work and the artist. During retail trunk shows, customers particularly enjoyed seeing Galmer's original pencil sketches and the resulting jewelry. They also liked seeing decades-old catalogs featuring various repousse' tabletop pieces by Stieff, Kirk and Gorham. In addition, collectors of Galmer tabletop discovered the jewelry line, making the inclusion of the Galmer name a natural.
Since its launch at the Luxury Prive' fine jewelry trade show in late July 2011, Repousse' Jewelry is now distributed through 12 fine jewelry stores and online, attracting geographically diverse orders, even internationally. The company plans to expand its online business as well as adding 6 more stores by year end. Stores carrying the line include Sharfman's Jewelers, DeScenza Diamonds, Radcliffe Jewelers, Works Gallery, Tiny Jewel Box, Hogue's Jewelers, Sylvan DeBose and Summerwind Jewelers.