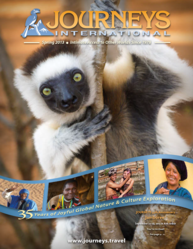 Ann Arbor, MI (PRWEB) March 27, 2013
JOURNEYS International, the oldest family owned eco-travel company in the United States, announces a new Spring catalog featuring global nature and culture exploration to Asia, Africa, Latin America, Europe, Australia and the polar regions. Active travelers will find adventure in 56 countries on all seven continents. Featuring 16 new trips to places such as Turkey, Colombia, Albania, Czech Republic, Burma (Myanmar), Brazil, Indonesia, Botswana, Nepal, Nicaragua, Kenya, and Antarctica, the catalog is available on the JOURNEYS website and in print version by request.
Filled with trip inspiration and travel tips, curious travelers can learn about exploring Southeast Asia, why to visit both sides of Iguazu Falls in Brazil and Argentina, and how to travel across Southern Africa with or without camping. Travelers seeking an intimate, candid, sympathetic and unrestricted experience with Tibetan Buddhism will discover how to find authentic experiences throughout the Himalayas, in Ladakh, India, Bhutan, Nepal, and Mongolia. The catalog also contains a myriad of opportunities to participate in festivals around the world. Among others, would-be explorers can delight in the Sing Sing festivals in Papua New Guinea, Cherry Blossom and Oeshiki Festivals in Japan, and the Day of the Dead kite festivals in Guatemala.
Celebrating 35 years of adventure travel, JOURNEYS highlights two particularly special trips. In November, Sherpa friends will welcome travelers to Nepal for the Everest Anniversary Trek. Retrace the route of JOURNEYS' very first trip in 1978 among Nepal's jaw-dropping mountain-scapes to Kalapathar lookout above Everest Base Camp. The year culminates in December when travelers can join the Anniversary Expedition to the White Continent. Join the perfectly paced, beautifully planned Antarctica trip of a lifetime as JOURNEYS Founder Will Weber heads to his seventh continent with daughter and successor Robin Weber Pollak.
JOURNEYS trips range from lodge and vehicle-based programs with easy day walks, to more challenging hiking and camping trips in remote wilderness areas. All programs seek to carry out the JOURNEYS mission to create and deliver extraordinary guided adventures that fulfill dreams, stretch understandings, protect the natural environment, support traditional cultures and foster connections between people. With more than 350 scheduled departures and an unlimited number of custom itineraries, JOURNEYS travelers have their choice of when and where to go.
About JOURNEYS International
JOURNEYS INTERNATIONAL is the longest standing family-owned global ecotourism company in the US offering full-service exotic, guided cross-cultural explorations, nature safaris, treks and eco-tours in remote corners of Asia, Africa, the Americas and the Pacific. Founded by current directors Will and Joan Weber in 1978, JOURNEYS boasts an extraordinary record of client satisfaction and industry awards. For more information please visit: http://www.JOURNEYS.travel
Contact: Joey Lechtner, Marketing
joey(at)journeys(dot)travel
800-255-8735