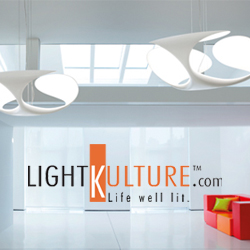 Set designers, as well as residential and hospitality designers have discovered Kundalini as a reliable source to add personality to a space with light.
Los Angeles, CA (PRWEB) March 28, 2013
lightkulture.com is pleased to offer Kundalini Italian Lighting. Kundalini, based in Milan, is a collaboration of emerging talent and internationally renowned designers and architects. "The resulting luminous forms have a personality all their own, adding color, warmth and personality to any environment," noted Susan Inderbinen President of LightKulture.com. These design professionals share is an underlying mission to identify cutting edge research solutions that draw inspiration from nature, industrial landscapes and the visual arts. Founded in 1996, Kundalini's initial assortment was extremely innovative and outrageous. They have developed a reputation as a pioneering company with an innovative spirit of style, combined with advanced research in production technologies and new materials. Kundalini is now a company with extensive experience which still is oriented towards identifying cutting edge research solutions while still being highly creative.
Here in the United States, one of Kundalini's most well known contributors to the buzz of their brand is Karim Rashid. His Bokka series is a free flowing organic shape, which both conceals the light source, while also making it a focal point of the design. You can see the inspiration from nature in the organic-modern design of the methacrylate diffuser. In contrast, Gregorio Spini's Sama series takes its structural inspiration from the industrial landscape, in rich, vivid colors that play with shape and light. Helen Konturis' La La Lamp has a personality as big as it conical shape and oversize scale. Brodie Neills Clover suspension fixture of molded polyurethane, with matt white varnish and aluminum reflector is a sculptural lighting masterpiece. While the general public may not recognise some of these names, the products themselves have been featured in movies, television shows, commercials, print ads, fashion and stage productions. Set designers, as well as residential and hospitality designers have discovered Kundalini as a reliable source to add personality to a space with light.
For more information, go to-
Kundalini http://www.lightkulture.com/m-85-kundalini.aspx
Kundalini Italian Lighting, a Personality All It's Own, Now Available at LightKulture.com
"I remember the first time I saw Kundalini was in Milan at Euroluce in 2007. At that time the line had been growing in popularity across Europe, but it was not yet available in the United States. We often purchase product X-Factory, but it is always easier to work with a company that is readily accessible, and already warehoused in the United States. Today we work with the American distributor who has a wide variety of Kundalini on hand. One of the more pleasant surprises about carrying Kundalini is the number of visual merchandisers and set designers who use the line for props. Many of the lamps and fixtures have exaggerated lines and are large in scale, which conveys the message of fun, European contemporary lighting design, in a playful way that people can relate to. We have also had the occasion to use Kundalini for lounge areas, restaurants, lobbies, offices, condos and large private homes. The unique shapes and hi-tech materials, combine to create a quality product that produces interesting light and shadows. These products bring a smile to your face and add character to every environment," noted Susan.
About LightKulture.com
At LightKulture.com our mission is to offer the finest energy efficient contemporary lighting and light fixtures from around the world. We have assembled an exciting collection of the industries most innovative decorative and architectural lighting. We are proud to offer lighting solutions for both your home and work-life environments. Simplicity in design is complicated, function makes it last. Be inspired by our range of essential designs from well respected American and European manufacturers. In today's world, energy efficient lighting is as important as eco-friendly or green lighting fixtures, such as LED or CFL lighting. We offer the very best energy efficient lighting and light fixtures, both high value LED lighting fixtures and CFL lighting fixtures in modern and contemporary styles that provide quality, innovation and authenticity.
LightKulture.com
http://lightkulture.com
Email: sales(at)lightkulture(dot)com
Tel. 941-330-0422