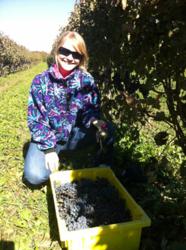 Our inaugural boot camp participants took the material very seriously and learned a lot about grape growing and winemaking - but more importantly, made some new friends along the way, and had a great time doing it. - David Bova, General Manager
(PRWEB) March 28, 2013
Whether a wine enthusiast, knowledge-seeker or thinking of getting your hands dirty with a career in winemaking, Millbrook Winery, situated in the Hudson River Valley, is offering a Winegrowing Boot Camp on periodic Saturdays throughout the 2013 growing season led by veteran Winemaker — John Graziano.
Beginning Saturday, April 13th, this six (6) part experiential Winegrowing Boot Camp series is open to just 20 students who'll participate in hands-on viticultural tasks and winemaking studies associated with the growing and making of Millbrook's exciting Northern Italian white grape variety – Tocai Friulano.
Under John Graziano's watchful eye, students will tend to their own personal assigned Tocai vines located in Millbrook's "Lollipop Hill" vineyard block. Each Saturday seminar will see participants rolling up their sleeves and plunging into vine pruning and tying, bud break, leaf pulling, harvesting and eventually, bottling.
Each participant will receive lunch, including a glass of wine, after each vineyard seminar during May through October at Millbrook's Vineyard Grille. The program also includes a seat at the winery's annual Tocai Celebration luncheon (May 18) and Harvest Party luncheon (October 19). A final closing luncheon will occur in March 2014 to celebrate the bottling of the wine. Boot Camp Participants will walk away with hard-earned fruits of their labor: a case (12 bottles) of the finished Tocai wine and the privilege of saying they helped make it!
OPTION 1: $795* (participant provides own transportation)
OPTION 2: $895* (includes shuttle service from Poughkeepsie train station but does not include round-trip price of Metro North train tickets)
*Cost includes all seminars, vineyard equipment, lunches, and one case (12 bottles) of personalized Tocai wine. Participants must be physically fit to provide manual labor in the vineyard. Participants must be able to lift 40 lbs.
2013 Dates: 4/13, 5/18, 6/1, 7/13, 10/19
2014 Dates: 3/15
To sign up visit http://www.millbrookwine.com (800-662-9463 x17)