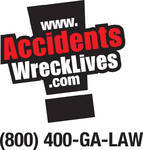 After an accident, a victim has to deal with a lot of "red tape", insurance company's attorneys, hospitals, medical bills, pain and suffering, lifestyle changes, and keeping their job
Dawsonville, GA (PRWEB) March 27, 2013
Each year countless people suffer life changing injuries due to the negligence of others. Coleman, Chambers, & Rogers is a law firm dedicated to helping victims of personal injury get the medical treatment they need and obtaining just financial compensation. This is why they decided to launch their new website entitled 'Accident Wreck Lives'. "Our goal is to provide strong legal counsel to help restore ones way of life and financial well-being," adds Rob Chambers (a partner at the firm).
"Accidents are a fact of life. We see them every day on our commute to work or on the evening news. But, no one can really understand the struggle and difficulty of being injured in a car accident or a slip and fall unless they have experienced it firsthand," adds Chambers.
"After an accident, a victim has to deal with a lot of "red tape", insurance company's attorneys, hospitals, medical bills, pain and suffering, lifestyle changes, and keeping their job. The insurance companies have trained adjusters who make recovery of needed money difficult," Chambers explained. These all add up to fact that Accidents Wreck Lives," states Chambers. This is in part their reason for launching this new site to let people discover their personal injury law firm and to let victims know more about their legal rights.
Some Facts about Coleman, Chambers & Rogers:

72 Years of Combined Legal Experience
Over 250 Trials Throughout Georgia
Over 3 Million won for clients in 2012
Former Trial Judge
Full Service Law Firm
No Case to Big or Small
Located North of Atlanta, the firm has the ability to represent a client throughout North Georgia. They handle cases from Hall, Gwinnett, Dawson, Jackson, White, Union, and Towns County. If you would like to learn more about the experienced attorneys and paralegals at Coleman, Chambers, and Rogers, please visit their site by following the link: Personal Injury Attorneys in Georgia.
This release was submitted by Click Ready Marketing an Atlanta SEO Marketing Agency