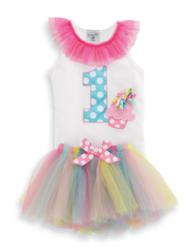 West Des Moines, Iowa (PRWEB) March 27, 2013
Bliss Baby and Maternity is excited to present the new Mud Pie line of spring and summer clothing – exciting and new Mud Pie collections for adorable girls and boys. Be the best dressed baby or child in town.
Mud Pie specialized in baby clothes and baby gift ideas. The Mud Pie line of clothing and accessories is a quality line of products and Bliss Baby & Maternity is proud to carry them. Mud Pie has kept their attention to detail and offers trendy baby gifts, baby accessories, and baby clothing. Find baby gifts for a newborn baby, baby tutu dresses, birthday party dresses and tutus, and all different varieties of bows and headbands. There are accessories such as socks and pacifier clips, jewelry and hats.
There is the classy look of the Tres Jolie which is made of black and white with strips and flowers for adorable ensembles. There are many other collections such as Wild Child, Birthday Wishes, Diva, and the Safari Collection to name a few.
With the themed collections, Mud Pie is sure to look adorable on any newborn baby. Mud Pie is a quality brand that can be trusted to with stand wash after wash. Other items by Mud Pie are blankets, dish sets, bibs, toys, frames and albums, and footwear.
Please visit http://www.blissbabyandmaternity.com and enter MUDPIE20 at checkout for a 20% discount through April 7th.