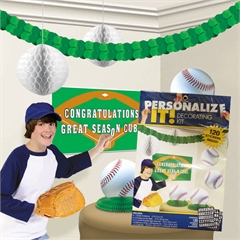 Chicago, IL (PRWEB) March 27, 2013
Spring is here and that means baseball. For thousands of fans the Spring season represents the beginning of a new season for their favorite baseball club. Come Easter Sunday, one of America's favorite pastimes will have returned. In honor of the nearing the 2013 MLB season, party supply company, Windy City Novelties, has recently extended their baseball party supplies product line.
The 2013 MLB season kicks off on the evening of Sunday, March 31st. The Texas Rangers will head to Houston to play the Astros as the first official game of the season. The rest of the league will play their first games the next day, April 1st.
Windy City Novelties has added new baseball party supplies to allow customers to host opening day celebrations. The retailers MLB Team Store section on the website consists of party supplies and decorations for MLB teams. Fans will be able to find paper goods with their team's jerseys or mascot on them for guests to eat and drink. Individuals can then decorate with corresponding decorations of the team's colors. Other types of decorations include table covers, banners, and cutouts. If not for opening day parties, customers can purchase as a good luck charm, in hopes that their team makes it to the playoffs towards the end of the season.
For fans that plan to attend a game or two, Windy City Novelties provides attire and other goodies customers can wear to respective games, rather than spending a fortune on the vendors at the stadium. These goodies are comprised of inflatable "#1" fingers, stadium horns, megaphones, and other noisemakers. Customers will be able to find such products in their favorite team's colors.
In addition to MLB party supplies and decorations, Windy City Novelties also offers general baseball decorations. Baseball party supplies and decorations are great for children's birthday parties. Windy City Novelties baseball decorations are comprised of table covers, centerpieces, cutouts and banners. Baseball party supplies include paper goods to serve drinks and food on, baseball themed coolers, piñatas, as well as small baseball trinkets and toys to put in the children's goodie bags. Customers will also be able to find a large selection of personalized baseball invitations to send out beforehand.
In order for individuals to find and purchase such party supplies and decorations, simply visit Windy City Novelties' website and search for products under the Baseball themed party supplies category.
About Windy City Novelties
Windy City Novelties, a party supply company founded in 1983, is known for their great selection and competitively priced items. They have an A+ rating from the Better Business Bureau and are also a NexTag 5 star Seller. From their website, windycitynovelties.com, they offer fast and friendly shipping along with great customer service. From glow sticks in every color of the rainbow, to party decorations in a variety of themes, and even a vast selection of Halloween costumes at the best prices, Windy City Novelties has over 15,000 products and adds more each week. Windy City Novelties also provides party and gift ideas and advice. For help or more suggestions, email our experts.