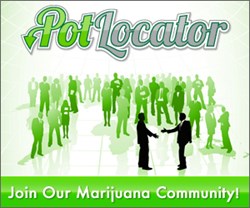 "Our specific approach to marketing and advertising is sure to revitalize and legitimize the medical marijuana industry. We are effectively targeting businesses and patients directly." - John Nicolazzo, C.O.O. of PotLocator
(PRWEB) March 27, 2013
PotLocator.com, one of the nation's top-tier medical marijuana dispensary, collective and resource center locators today announced the implementing of an entirely new geo-targeted product placement system that will go into effect immediately. With the completion of a geo-targeted product placement system, PotLocator hopes to take advertising and marketing to new heights among the medical marijuana industry by pairing together product advertisements and marketing profiles of canna-businesses based upon a system of geo-targeting.
If unfamiliar with geo-targeting in terms of Internet marketing, this is a choice method of determining the geo-location of a web visitor and then delivering to them content based upon the visitor's specified location. The location of a visitor can fall under many different categories such as country, region, city, zip code, organization, ISP or IP address of their computer. PotLocator's geo-targeted product placement system specifically looks up the IP address of the visitor and then targets their geo-location with specific advertisements and promotional offers that are adjacent to their geo-location. By doing so, the product placement system allocates which state and profile to join together in terms of displaying advertisements, coupons, etc.
In a time where interactive internet advertising continues to demonstrate a consistent outperforming of other media forms at a year-after-year growth pattern, IP address data has become a gold mine that has advertisers realizing it's time to step up marketing efforts. Clearly PotLocator is ahead of the game and is the driver's seat to continue conquering such an immensely competitive landscape of marketing and advertising. By offering users of the PotLocator dispensary locating software the ability to be exposed to geo-targeted ads specific to their IP address, this helps reduce wasted impressions of pop-up advertising and begins to deliver some truly measurable and outstanding results. With the delivering of relevant advertisements to a user's specific region, this also increases PotLocator's click-through rates and overall community outreach.
PotLocator.com, a major subsidiary of The Medical Cannabis Network, offers such an innovative service of product placement so users will receive a more hands-on and specified approach while navigating through their website. Through targeting audiences located within all legal medical marijuana states with a greater sense of precision, PotLocator can introduce many promotional offers, coupons and advertisements to those who would find the best of use in those geo-targeted products. In terms of an example, one would search for a hydroponics shop within a California region and automatically view product advertisements and promotional offers for growing mediums or cultivation necessities.
John Nicolazzo, C.O.O. of PotLocator, said in a statement, "By concentrating on geo-targeting advertising, the team at PotLocator is working on eliminating a generalization of industry profiles and attempting to make them more individualized through use of geo-targeted product placement. This approach to marketing is sure to revitalize and legitimize the industry, as we are effectively trying to target businesses individually and enhance their overall exposure." PotLocator is sure to make great strides with this innovative form of marketing and advertising among their enormous network of reputable medical marijuana dispensaries.