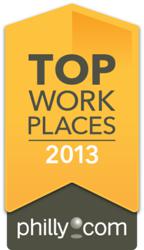 The level of trust is unique to our company and makes it fun to come into work every day
Huntingdon Valley, PA (PRWEB) March 27, 2013
The Top Workplaces are determined based solely on employee feedback. The employee survey is conducted by WorkplaceDynamics, LLP, a leading research firm on organizational health and employee engagement. WorkplaceDynamics conducts regional Top Workplaces programs with 37 major publishing partners and recognizes a list of 150 National Top Workplaces. Over the past year, more than 5,000 organizations and 1 in every 88 employees in the U.S. have turned to WorkplaceDynamics to better understand what's on the minds of their employees.
For nearly 40 years, Alpha Systems has provided data and document solutions primarily focusing on the needs of healthcare providers and large corporations needing data, document and electronic discovery services. Because of their dedicated employees, Alpha is able to deliver top-line products and services with the highest-quality possible. At Alpha Systems, a great work experience begins with the people and the new opportunities the company presents to its employees.
"The level of trust is unique to our company and makes it fun to come into work every day," said Tony White, IT Infrastructure Manager. "I have been at Alpha over 9 years and made many friends here. Everyone genuinely cares about each other and that is evident in all of the fundraisers and events that happen at Alpha. I also see a bright future at Alpha Systems for all of us and would love to continue being a part of making that happen."
"We are honored to be selected as a Top Philly Workplace," said Brett Griffith, President of Alpha Systems. "We have a high integrity team that is focused on our clients, pursue excellence and are fun to work with. These are unique ingredients that make Alpha successful."
Philly.com published the complete list of Top Workplaces on March 17th. For more information about the Top Workplaces lists and WorkplaceDynamics, please visit http://www.topworkplaces.com and http://www.workplacedynamics.com.