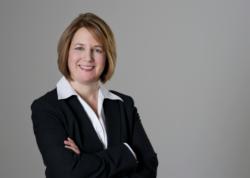 Susan's business experience and acumen will allow us to fine tune our operations and more easily achieve our three- to five-year growth objectives.
Durham, NC (PRWEB) March 27, 2013
SciMetrika, LLC announced that Susan Acker-Walsh has joined the company as Executive Vice President and Chief Operating Officer. In this role, she will drive initiatives focused on planned growth and business execution.
Ms. Acker-Walsh has served in executive leadership roles in both public and private companies, and has considerable experience accelerating and sustaining business growth objectives through organic and acquisitive initiatives. In recent years, she has managed corporate functions overseeing business operations, mergers and acquisitions (M&A), information systems and facilities, human resources, organizational and people development, corporate communications, and corporate compliance.
"Susan's business experience and acumen will allow us to fine tune our operations and more easily achieve our three- to five-year growth objectives," explained company founder and CEO, Jean Orelien. "I have known Susan since 1998 when we both worked at Constella; she understands our culture, knows our industry and brings skills complementary to mine that will help grow the business."
Prior to joining SciMetrika, Ms. Acker-Walsh served as a vice president and director at SRA International, where she planned, organized, and directed the business activities of SRA's Civil Government Group unit. Her tenure at SRA began six years earlier in the Global Health sector, when she helped facilitate the integration of privately-held Constella Group, LLC, a firm she joined in 1997. While at Constella, Ms. Acker-Walsh led several growth and turn-around initiatives that contributed substantially to the company's growth from $5M to nearly $200M. She also served as a member of the executive leadership team, where she oversaw M&A and strategic planning, while providing high-level management of several profit and loss (P&L) and organizational functions.
Between two tours of duty with Constella, Ms. Acker-Walsh formed her own business in 2000. As CEO and President of an environmental health and safety startup, she raised $20M in venture-backed funding and grew the firm to a peak of 80 staff, an accomplishment which earned her the 2000 Regional Finalist Ernst & Young Entrepreneur of the Year award. Other honors she has received include: 2010 Southeast Regional Emmy Award for Documentary Film, 2004 Woman Extraordinaire Award, 2003 William C. Friday Fellowship for Human Relations, 2002 UNC Kenan-Flagler Business School Commencement Speaker & Alumni Merit Award Winner, 2001 North Carolina Governor's Award for Outstanding Entrepreneur, 1999 Top 25 Women in Business Award, and 1998 Top 40 Under 40 Business Award.
She earned an MBA from the Kenan-Flagler Business School at the University of North Carolina at Chapel Hill, and a certification through the Business Coach Institute at North Carolina State University. Ms. Acker-Walsh became an on-call faculty member with the Center for Creative Leadership in 2012.
About SciMetrika:
SciMetrika, LLC (http://www.scimetrika.com) is a fast growing, privately held business with a singular focus on advancing human health. Founded in 2001, the company serves public and private sector clients seeking to understand and influence population health outcomes. SciMetrika's multidisciplinary teams, mature business processes, and unwavering focus on advancing human health allow SciMetrika to offer wide-ranging services that are unmatched by other businesses in this market space.
Contact: Kathleen Schindler | (919) 354-5243 | kschindler(at)scimetrika(dot)com