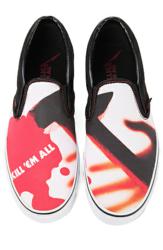 Vans is truly an American classic and Karmaloop is psyched to bring the latest looks to our fans and customers.
Boston, MA (PRWEB) March 27, 2013
Karmaloop.com, the leading online retailer for streetwear and urban fashion, will carry the Spring 2013 Collection from Vans Shoes, the original skate shoe maker and one of the most popular and sought-after labels in urban footwear.
"Vans is truly an American classic and Karmaloop is psyched to bring the latest looks to our fans and customers," said Greg Selkoe, Karmaloop founder and president.
Highlights of the Spring 2013 collection from Vans footwear include a collaboration with Metallica, the rock band that has had enormous influence on action sports and youth culture. For Spring '13, Vans has produced Slip-On and Sk8-Hi shoes inspired by the artwork from Metallica's debut studio album, Kill 'Em All.
"Metallica is one of the greatest bands of all time, and they're hugely popular in the skate community, so this official collaboration with Vans seems like a natural," said Selkoe. "Anyone who loves Vans or Metallica -- or both -- will definitely want to check these out."
Karmaloop will also carry the Van Doren Series Collection, featuring summer looks inspired by the '80s and '90s skateboard culture, with reissued prints and patterns from the archives and the original Van Doren heel tab. This Vans footwear collection includes classics like the Van Doren Era Sneaker in Checker & Green Flash, a slip-on with blue and white checkerboard pattern and contrasting green detail around the padded collar. There's also the Van Doren Authentic in Parrot & Light Blue, featuring a Hawaiian print, the Van Doren Authentic in Leopard & Black, and the Van Doren Authentic in Retro Flag.
About Karmaloop.com
Karmaloop.com is the leading online retailer for global urban fashion and streetwear, with more than $130 million in annual sales. Retailing all the major street brands from Obey and LRG to Jeffrey Campbell and Free People, Karmaloop receives more than 4.5 million unique visitors from 40 countries each month, and retails more than 500 brands designed for the "Verge Culture" -- a multicultural demographic that is 18 to 34 years-old and often referred to as the first generation that grew up with the Internet. Founded in 2000, the Karmaloop family of websites today includes the internet television station KarmaloopTV, the women's fashion site MissKL, the menswear boutique Boylston Trading Company, the flash-sale site PLNDR, the online skateboard retailer Brick Harbor, and the independent marketplace Kazbah.