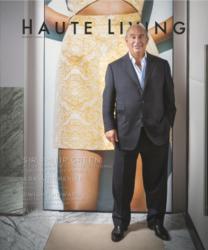 "I am reliable, I'm focused, yes doesn't mean maybe, no doesn't mean maybe. There is no grey in my world. If I say it's done, you can take it to the bank…"
Los Angeles, California (PRWEB) March 27, 2013
This month Haute Living sat down with Sir Philip Green, the man behind one of England's biggest fashion empires. Green, who counts supermodel Kate Moss as a personal friend and vacations with Leonardo DiCaprio, has brought his Topshop brand to Los Angeles, where we joined him at a star-studded grand opening.
The British icon opened up about celebrity fans and his famous business acumen; "I am reliable, I'm focused, yes doesn't mean maybe, no doesn't mean maybe. There is no grey in my world. If I say it's done, you can take it to the bank…" Topshop Los Angeles is the fourth opening since the brand expanded stateside, and there are more to come according to Green, for whom the only obstacle is "not enough hours in the day".
After pioneering the celebrity capsule collection with "Kate Moss for Topshop", Green also responded to speculation about whether he would ever reprise the collaboration. "Who knows?" says Green. "This isn't a conversation we've had recently, but it could happen. I think we would never try to replace Kate. That was a moment, but maybe we could do something again."
With an ever-growing presence in the US, Green is also developing ties with homegrown stars like Demi Levato, who sported Topshop as a judge on American Idol. "We've been working with Demi quietly for the last six months," Green confides. In fact, countless celebrities are fans of his line, although Green displays some characteristic British tact in avoiding naming names. "We shop a lot of celebrity people, but in a polite way. We don't call newspapers. They come and want to shop with us. We respect that. That's a relationship we've got with a lot of people who come here. They trust us. It's important that we respect people's privacy."
Read the full interview in the March/April 2013 issue of Haute Living Los Angeles.
Also in this issue, actor Adrien Grenier opens up about the upcoming Entourage movie. Grenier, who is set to reprise his role as Hollywood hunk Vincent Chase, told us, "I don't feel quite myself these days, so I'm ready to feel a little Vinnie Chase." And what about those rumors President Obama may make an appearance? "I think if he has some spare time, maybe he'll grace us with a cameo. Maybe Vince will go into politics."
We've also rounded up the city's hottest hotel pools, the most romantic dinner spots, and even picked our favorite Haute hamburgers.
About HauteLiving.com
Haute Living is the premier go-to for updates on all things Haute around the world. With pages dedicated to cosmopolitan cities around the world, our editors keep readers in the loop on daily news, exclusive events, exciting openings and product releases. The Haute Living group also extends to niche luxury markets, with news about everything from yachts to interior design. The acclaimed market site Haute Time leads the group, providing luxury watch aficionados with product previews, exclusive interviews, unveilings, and more.
About the Haute Living Media Group
Haute Living Magazine is a national luxury lifestyle magazine published in four markets—New York, Miami, Los Angeles, and San Francisco. Haute Living Magazine features the top entrepreneurs, businesspeople, and notables in each market. Haute Living Magazine also highlights the best in luxury consumer goods, culinary hot spots and events. Haute Living recently redesigned its website and re-launched its Haute Time and Haute 100 websites for state-of-the-art experiences.