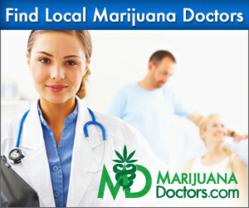 "Our brand new doctor DIY kit allows any patient's primary care physician to recommend cannabis as an alternative treatment. The eight page media kit has all the necessary tools at the patient and doctor's disposal." -John Nicolazzo, C.O.O. of MD
(PRWEB) March 29, 2013
The nation's first ever online booking and search platform, MarijuanaDoctors.com, has announced the implementing of an innovative new "do-it-yourself" kit that is specifically meant for patients and physicians who are looking to receive or issue a medical cannabis recommendation. Within this new kit, patients and physicians alike will find all necessary information and documentation to carry out a successful visit for a medical marijuana recommendation. Perhaps the most intriguing feature of this do-it-yourself kit is aimed at doctors, as they are able to write a recommendation and fulfill an evaluation while having all processes covered by a patient's insurance.
As many already know, MarijuanaDoctors.com provides a service to patents and physicians that is both extremely beneficial and entirely efficient. By allowing patients within all legal medical marijuana states to locate a physician that is closest to their area who will recommend medical marijuana as a treatment option, MarijuanaDoctors supplies physicians in their network with patients every single day. Physicians who sign up within the MarijuanaDoctors network benefit greatly and receive an immense influx of patients who are seeking the use of cannabis as medicine. However, the problem of not finding a physician remains for those who are located in an area that does not have any physicians for at least thirty miles. In some cases, patients are also uncomfortable with seeing a doctor that is not their primary physician. The answer to that problem lies within MarijuanaDoctors new do-it-yourself doctors kit, and will surely legitimize how efficiently a non-medical marijuana doctor can gracefully become eligible to certify patients for medicinal cannabis.
The MarijuanaDoctors DIY Doctors Kit is an eight-page media kit that provides all the necessary documentation and information to provide a patient or a doctor with a game plan to receiving or issuing a legitimate medical marijuana recommendation. Documentation located in the media kit explains how physicians can legally begin the process of becoming eligible to conduct medical marijuana evaluations, medical marijuana certifications and issue medical marijuana recommendations. Patients who wish to present a do-it-yourself kit to their primary physician may do so accordingly, however it is up to the doctor on whether or not they wish to fulfill a patient's wishes. This media kit is sure to help expand the industry in multiple ways, and will hopefully continue the practicing of compassionate medicine.
As aforementioned, the most unique feature of this new doctor do-it-yourself kit appears to be a physician's ability to write off a medical marijuana visits as a 99213 insurance code, which ensures the licensed physician that they will receive reimbursement for their services. As opposed to the many medical marijuana doctors and certification clinics across the country, this media package strays from the cash-only aspect of compassionate medicine and concentrates on more of a legitimate healthcare approach by going through a patient's insurance provider. Due to any services being covered and reimbursed through a patient's healthcare provider, this ensures both the patient and their physician that no under the table services are being conducted and everything is within compliance of state law.
With the announcement of MarijuanaDoctor's DIY Doctors Kit, MarijuanaDoctors hopes to expand the industry and bring on board more doctors who are willing to issue medical marijuana recommendations. Many physicians are unaware of the benefits of medical marijuana or are unaware of their respective state's medical marijuana guidelines for issuing medical marijuana certifications. If this is the case, this specific do-it-yourself kit will provide doctors with an education and new sense of familiarity with marijuana treatment and benefits. This kit greatly simplifies the process of receiving an issued recommendation, as patients can use it as an efficient way to receive a recommendation from their primary physician in a state of complete comfort.