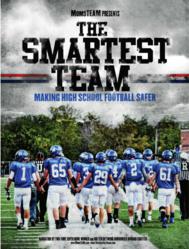 "Head injuries in youth and high school football pose daunting challenges; ones that sensational media coverage has many parents believing are insurmountable. Football can be made safer and we were able to do it." de Lench
WALTHAM, MA (PRWEB) March 27, 2013
Head injuries in youth and high school football pose daunting challenges; ones that sensational media coverage has many parents believing are insurmountable. Add in a culture resistant to change, too many coaches still teaching players to block and tackle using their heads, players unwilling to report concussions, and a sport in which, despite new laws, new technology and new tests, concussion identification and management remains haphazard, and parents are left wondering what can be done to improve safety.
Now, with Brain Injury Awareness Month about to end and National Youth Sports Safety Month beginning, comes The Smartest Team™, an hour-long documentary designed to help football programs and athletes play safer and smarter.
Produced and directed by visionary youth sports parenting expert and author, Brooke de Lench, and drawing both on her experience as a parent of a concussed high school football and lacrosse player and as the founder and publisher of MomsTEAM.com®, the acknowledged "pioneer" in youth sports concussion education, The Smartest Team documents how de Lench worked with a high school in rural Oklahoma to address the challenges concussions pose in football.
The Smartest Team begins where other concussion documentaries leave off, not simply identifying the risks of long-term brain injury in football but offering youth and high school programs across the country specific ways to minimize those risks, through a focus on what de Lench calls the "Six Pillars™" of a comprehensive concussion risk management program:
1. Education;
2. Protection;
3. Early Identification;
4. Conservative Treatment
5. Cautious Return to Play
6. Retirement
Narrated by two-time Super Bowl winner and Big Ten Network announcer, Howard Griffith, The Smartest Team features a number of leading experts on head injuries, including:

William P. Meehan, III, M.D., Director of the Sports Concussion Clinic, Children's Hospital Boston and author of Kids, Sports, and Concussions;
Rosemarie Scolaro Moser, Ph.D., Director of the Sports Concussion Center of New Jersey, author of Ahead of the Game: The Parents' Guide to Youth
Sports Concussion and a member of the Centers for Disease Control and Prevention's Mild Traumatic Brain Injury panel;
Joseph A. Congeni, M.D., Medical Director, The Sports Medicine Center, Akron Children's Hospital, and
Coach Bobby Hosea of the Train Em' Up Academy and developer of the Head Free Tackle™ method.
A Mom's E-Mail
The Smartest Team grew out of an email in February 2012 de Lench received from the mother of a high school football player in Newcastle, Oklahoma. "When she wrote asking for my help in setting up a concussion risk management program, I decided the best way MomsTEAM and I could educate the largest number of parents, players, athletic trainers, and football coaches was not just to help the Newcastle Racers set up their program, but to capture it on film to make it available to a wider audience."
"This was my first documentary, but I couldn't be more pleased with result," says de Lench. I think the film shows what can happen when all stakeholders, especially parents, work together as a team to make the sport of football safer, not just for their kids but for all kids. More broadly, The Smartest Team shows how we can not only preserve but strengthen youth and high school football, which play such an important part of the life of so many communities across America."
About MomsTEAM.com
Now in its thirteenth year, MomsTeam.com® is the premier online youth sports parenting information gateway for America's 90 million sports parents. The site currently offers over 10,000 pages of continually updated health and safety, parenting, nutrition and sports information and news, forums, blogs, and advice from a team of leading experts, veteran sport parents, and Olympic athletes. Good Housekeeping magazine selected MomsTEAM as one of the top three websites for sports parents.
MomsTeam.com's Youth Sports Concussion Safety Center has been recognized as the pioneer in youth sports concussion education, and is widely regarded as being one of the most – if not the most – comprehensive resources for concussion information on the Internet.
MomsTEAM was recently selected as a content provider to the National Football League's health and safety website, NFL Evolution.com.
For more information, please see http://www.TheSmartestTeam.com