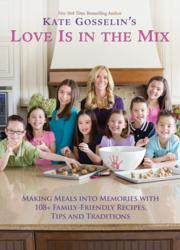 No matter the outcome, I have learned from Grandma that nothing that comes from the kitchen is a mistake when you add love to the mix. -Kate Gosselin
Deerfield Beach, FL (PRWEB) March 27, 2013
As the well-known mom of eight growing—and hungry—kids, Kate Gosselin knows her way around the kitchen, bestowing her passion for cooking onto her brood of budding chefs. Available for preorders now and available in stores in September, in Love Is in the Mix: Making Meals Into Memories with 108+ Family-Friendly Recipes, Tips and Traditions (HCI Books – September 2013 -- $22.95- ISBN: 9780757317644), Kate shares the Gosselin family's favorite recipes for every day and entertaining, the most important ingredient when creating special family time.
Happy to announce her book the week of her birthday (on March 28), Gosselin says, "As far back as I can remember, my grandma would invite me and my sisters to bake in her kitchen, allowing each of us to choose our cookie project. She would set us up at our own stations throughout the kitchen and invite the chaos to begin. In this book, I impart to you all that I have learned, invented, and stumbled upon. My hope is that my children learn from me the joy and satisfaction that creating in the kitchen brings. No matter the outcome, I have learned from Grandma that nothing that comes from the kitchen is a mistake when you add love to the mix!"
Created in response to overwhelming requests, Gosselin's cookbook, with its stunning four-color photos and amusing anecdotes of holidays and traditions, offers a repertoire of recipes for any home chef, from crowd-pleasing appetizers to decadent desserts, from lazy weekend breakfasts to speedy weeknight suppers, plus company-worthy dishes you can serve without a hassle—or leftovers.
This mom-of-eight also has surprises in store during the months before her book is published. "I plan on making some recipes available that are not in the book and also share some traditions and tips along the way. So watch my Twitter @Kateplusmy8 and my website http://www.kateplusmy8.com for these."
From sweet and savory to spicy and saucy, these recipes will become regulars in your kitchen rotation, with guaranteed favorites including:
Pork Chops with Sauteed Apples, Mommy-Style Chili, Very Sloppy "Joels", Summer Stir-Fry, Mom's Stuffed Cabbage Rolls, Leah's Favorite Spaghetti Sauce, Swedish Meatballs, Kate's Sausage Cacciatore, Healthy Eggplant Parmesan, Pizza Meatballs, Collin's Thomas Hummus, Cara and Mady's Crock Pot Pulled Pork, Savory Chicken Corn Soup, Kate's Famous K8 Salad, Gosselin's Chocolate Birthday Cake, Autumn Apple Pie with Crumb Topping, Aunt Helen's Lemon Squares, Blueberry Crisp, Holiday Pineapple Casserole, Kate's Basic Bread (Maker) Recipe, Spicy Sausage Bean Bake, School Morning Brown Sugar Oatmeal Cereal, Buffalo Pretzels, and Edible Dough for Play.
Kate Gosselin's Love Is in the Mix will help busy moms and dads put delicious meals on the table while making lasting memories. The pre-order link on amazon is: http://amzn.to/Xag2ZT. The cookbook is also available on bn.com and booksamillion.com.
Kate Gosselin is best known for the reality TV shows "Jon & Kate Plus 8" and the more recent "Kate Plus 8." She authored the New York Times bestselling book, Multiple Blessings, as well as the book Eight Little Faces and I Just Want You to Know. She competed in the tenth season of "Dancing with the Stars" and also enjoys public speaking and writing regular blog posts for her website and various other sites. Visit her at http://www.kateplusmy8.com.