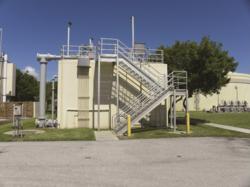 California's Title 22 acceptance provides credence for this exciting new technology which could benefit a wide range of treatment applications.
Fort Lauderdale, FL (PRWEB) March 27, 2013
Parkson's next-generation DynaSand Filter has been accepted by California health officials as an alternative filtration technology for compliance with the California Water Recycling Criteria (Title 22) for its ability to deliver reliable treatment with much lower backwash volumes than traditional systems. Demonstrations conducted using EcoWash have shown an equal degree of treatment and reliability as those technologies listed in Title 22 while substantially reducing energy and water consumption from the first generation of filters.
"California's Title 22 acceptance provides credence for this exciting new technology which could benefit a wide range of treatment applications," said Omar Gadalla, Product Manager of DynaSand at Parkson.
Unlike traditional systems with continuous backwashing, the EcoWash relies on an advanced control system which activates the backwash cycle for media washing only when it is required, based on time or the headloss in the filter's feed channel. When the filters are not backwashing, the level of turbidity drops because the filter is actually able to capture more solids in the existing bed when compared to continuous backwash operation. For operators, the new system requires significantly less attention, as the EcoWash system monitors conditions and cycles through stages automatically.
The development and rollout of the EcoWash system falls in line with Parkson's continued focus on sustainability and green technology. By utilizing intermittent backwash, the EcoWash filter reduces water consumption and energy usage by 60-90%.
A third party engineering firm helped develop a testing protocol and then completed a performance test to obtain Title 22 acceptance of the DynaSand EcoWash filtration system.
In a real-world trial, the new EcoWash equipment was tested against a traditional DynaSand filtration system at an 8.64 MGD tertiary filtration plant in Florida. After several months of operation, the head-to-head test showed a clear advantage to the EcoWash, which produced lower energy consumption and lower levels of suspended solids in the effluent of the filter. Data showed that suspended solids were down by 20% and backwash water volume fell by as much as 90%.
The California Department of Public Health's Recycled Water Committee reviewed the request from the third party to consider the Parkson DynaSand EcoWash as an alternative filtration technology under California's Title 22.
"This is a huge accomplishment for Parkson, and one that we are very proud to have achieved," said Shamus Hurley, President and CEO of Parkson. "No one but Parkson can claim to have a patented continuous backwash filter with intermittent features that has received Title 22 acceptance."
For more information on upgrading to the more efficient DynaSand EcoWash system, please contact a local Parkson Sales Representative or Parkson Corporation at 1-888-PARKSON.
About Parkson Corporation:
With 25,000 installations in its 50 years of existence, Parkson Corporation is a leading provider of advanced solutions in water recycling and treatment and is committed to providing clean water for the world.