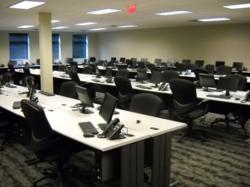 We're excited to have been chosen for the Tech Elite 250 for the third year in a row. It is a great accomplishment and we appreciate the recognition from CRN Magazine for our strong technical expertise and certifications," says Steve Johnson, President of
Atlanta, Georgia (PRWEB) March 27, 2013
Corus360, a technology consulting and solutions company based in Norcross, GA, has been named to CRN's Tech Elite 250 List for the third consecutive year. The CRN Tech Elite 250 is a definitive list of solution providers with deep technical expertise and premier certifications in the data center market. The list was developed by CRN editors and is based on the level and depth of technical certifications from EMC, IBM, Cisco, VMware, Citrix, Microsoft, Dell, Hewlett-Packard, Symantec and NetApp. CRN editors narrowed down the final list based on the level and depth of technical certifications within each VAR organization.
The decision to select Corus360 for the Tech Elite 250 again was attributed to their multiple partnerships and certifications. Corus360 has over 20 different partners including Dell, HP, IBM, EMC, NetApp, Juniper, VMware, Veeam, HDS, and Symantec. Corus360's consistent growth and development of cost effective infrastructure solutions for customers also aided CRN editors in their decision.
"The 2013 Tech Elite 250 list recognizes an exclusive group of solution providers that have invested in training and technical know-how to help their customers understand the benefits of some of the most sophisticated technology deployments in the market – and have shown a dedication to helping customers innovate while reducing costs," said Kelley Damore, Senior Vice President, Editorial Director at UBM Tech Channel. "By identifying and adapting to the skills and training needed to best serve today's customers, members of the Tech Elite 250 have proven their commitment to delivering the products and services that today's customers value most."
''We're excited to have been chosen for the Tech Elite 250 for the third year in a row. It is a great accomplishment and we appreciate the recognition from CRN Magazine for our strong technical expertise and certifications," says Steve Johnson, President of Corus360.
The Tech Elite 250 is similar to CRN's previous lists, the VAR 500 and Fast Growth 100. According to CRN Magazine, the Tech Elite 250 is the definitive list of VAR companies.
About Corus360
Corus360 is a technology consulting and solutions company with more than 10 years of success delivering infrastructure solutions, recovery and consulting services that help organizations reduce costs, increase efficiencies and maximize productivity. We specialize in best of breed infrastructure solutions, IT management consulting, IT Staffing, application development, Data Center technologies, disaster recovery, managed services and enterprise applications. For more information, visit http://www.corus360.com.
About UBM Tech Channel
UBM Tech Channel is the premier provider of IT channel-focused events, media, research, consulting, and sales and marketing services. With more than 30 years of experience and engagement, UBM Tech Channel has the unmatched channel expertise to execute integrated solutions for technology executives, managing partner recruitment, enablement and go-to-market strategy in order to accelerate technology sales. UBM Tech Channel is a UBM company. To learn more about UBM Tech Channel, visit us at http://www.ubmchannel.com. Follow us on Twitter at http://twitter.com/ubmtechchannel.