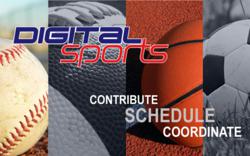 We're really proud to be able to encourage student writers to become DigitalSports reporters. It's a stepping stone into a journalism career.

-Chris Decker
Yardley, PA (PRWEB) March 27, 2013
DigitalSports.com, the nation's leading website for high school sports writers and athletes, and Vantage Learning, the nation's premier provider of classroom technologies that help improve student and teacher performance, have announced the winners of the DS Reporter™ Contest. The contest was designed to teach students about sports journalism by encouraging them to use their writing skills to cover high school sporting events. Winners received college scholarships in addition to cash prizes for their school athletic departments.
"We're really proud to be able to encourage student writers to become DigitalSports® reporters. It's a stepping stone into a journalism career," said Chris Decker of DigitalSports.com. "We're hoping to encourage teens who want a sports writing career to submit their stories and photos for the world to see."
The top DigitalSports.com and Vantage Learning award winners are:
Bryson Schmidt of Ralph L. Fike High School in Wilson, NC. Bryson won the first prize, a $5,000 college scholarship and a $500 donation to the school's athletic department.
Tommy Bean of Stowe-Munroe High School in Stowe, OH. Tommy won the second prize, a $2,000 college scholarship and a $300 donation to the school's athletic department.
Nick Wagner of Ada-Borup High School in Ada, MN. Nick won the third prize, a $1,000 college scholarship and a $200 donation to the school's athletic department.
"We were delighted to be a part of DigitalSports' student-reporter contest. Our products are designed to help students become better writers, and if we can help them along the way to becoming professional journalists and writers, we're happy to do it," said Elena Cupingood, product manager of Vantage Learning's flagship product, MY Access!®, a K–12 classroom technology that enhances student writing and enables teachers to target instruction to the specific needs of each student.
############
About DigitalSports.com
DigitalSports.com, powered by LeagueMinder®, informs, inspires and entertains by using sports and the achievements of students to improve literacy through community-generated content. DigitalSports provides a safe environment for building a community around local high school and youth sports teams. It provides the tools for uploading and sharing photos, videos and stories that range from real-time high school sports coverage to insightful student journalism.
About Vantage Learning
A recognized leader in online assessment and instruction, Vantage Learning creates Adaptive Learning Environments® to support student achievement and school improvement. Formed to meet the needs of the ever-evolving education industry, Vantage provides educators with sophisticated knowledge and immediate feedback solutions to enhance and support a continuous learning process. Its exceptional technology, including artificial intelligence, natural language understanding and Web-based learning tools, provides adaptive resources for individualized instruction and professional development.