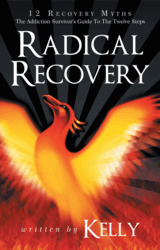 "There is no future in addiction, just a regrettable past that keeps repeating itself over and over again." Jack Kelly
Boca Raton, FL (PRWEB) March 29, 2013
Kelly's fresh approach to recovery may be the reason it was selected by Genesisce, http://www.genesisce.org. as one of the books it offers to therapists.
Kelly makes the point that Martial Arts and The Twelve Steps have much in common . He makes the point that to become a warrior or an addiction survivor requires the same qualities: courage, humility, honesty, and discipline.
Just as a warrior is a protector of ideals, principles, and honor, Kelly suggests that the spiritual principles in the Twelve Steps have the same goal. A warrior seeks to be both noble and heroic. Kelly believes that these are the same essential qualities alcoholics and drug addicts need to develop as they begin the process of transforming their cravings fro pills, alcohol, and drugs into cravings for freedom, integrity, humility, and peace.
The warrior, like every alcoholic and addict, understands that the most formidable obstacle they will ever face during their life is their own SELF; what Buddha called, The Three Poisons, Delusional Thinking, Destructive Emotions, and Cravings.
In following the path of the warrior or the path of the Twelve Steps, one becomes conscious and aware of the good, bad, beautiful, and ugly parts of themselves. With this comes a commitment to conquer the flaws in one's character that stand in the way of their becoming noble and heroic: fear, anger, resentment, guilt, lust, shame, self-pity, self-centeredness, ignorance, arrogance, and greed. Learning how to overcome these powerful forces is the true nature of victory for alcoholics, drug addicts, and warriors.
Throughout his book, Kelly demonstrates that the original members of A.A. had the mindset of a warrior; that they understood that alcohol was a "symptom" of a problem, that "Self, manifested in various ways was what defeated us." (Page 68)
Jack Kelly is the founder of The Lazarus House in Boca Raton, FL. He brings more than 35 years or personal recovery experience to the table along with 10 years of doing presentations for treatment centers, prisons, and parent teacher organizations. Kelly's book can be ordered on Amazon, Barnes and Noble, or his website, http://www.thelazarushouse.net. To subscribe to Kelly's free daily email, you can contact Kelly at http://www.thelazarushouse.net or by phone 561-603-1807