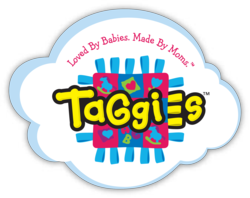 Atlanta, Georgia (PRWEB) March 28, 2013
Taggies is known for decorating its apparel, toys and accessories with colorful textured tags that children love to touch. The manufacturer has announced it will be bringing that same charm to Buy Buy Baby – with its first ever bedding collection.
The set, dubbed the Owl Collection for its playful hoot owl theme, includes basics like a four-piece crib set and parenting essentials like a crib mesh bumper and liner. Accessories are also available, including a plush mobile that plays songs, lamp shades, and matching wall decals. A whimsical, colored circle pattern pulls together everything in the collection.
Taggies products are soft, comforting products that babies want to touch. They are designed to be equally engaging and soothing. The same approach was extended to their first ever bedding collection.
The Taggies' hallmark tags are a big part of that strategy. Made from satin, the tags show up in bright colors just below the border of the comforter and along other edges and hems.
The bedding collection is also designed to be durable and easy to clean.
Every piece of the Taggies Bedding Collection is made of high quality materials that will last for many years.
About Taggies™
Over a decade ago, a real mom, inspired by her children's affection and attachment to smooth, looped tags, grew Taggies from an idea to a "must have" nursery item. The brand, licensed by Kids II in 2011, has made everyday items extraordinary with the addition of satin tags to blankets, toys, apparel and books that children love to touch.
Now in 30 countries and growing, the Taggies brand encompasses apparel, bedding, toys, gear and travel products, proven to provide emotional well-being and sense of security. As a manufacturer, designer and marketer of toys and baby gear, Kids II, headquartered in Atlanta, Georgia, owns the brands Bright Starts™, InGenuity™ and Comfort & Harmony™, as well as licenses to design and manufacture products under Disney Baby™, Baby Einstein™, Taggies™, and Oball™. Visit http://www.kidsii.com and http://www.taggies.com.
About Kids II, Inc.
Kids II has been inventing and reinventing infant and toddler toys and gear for more than 40 years and has quickly become one of the world's fastest growing baby product companies. Headquartered in Atlanta, Kids II spans globally with operations in six continents serving customers in more than 70 countries. Driven by innovation, design and a comprehensive brand portfolio, Kids II is the next generation leader of infant and toddler products.
Kids II designs, markets and distributes more than 400 unique infant and toddler products, selling more than 22.8 million items per year. On average, it launches 125 new products a year. Under its flagship brands, Kids II has produced more than 100 award-winning products.
The brand portfolio strength runs deep under the Kids II umbrella, which includes its signature brands Bright Starts™, InGenuity™ and Comfort & Harmony™, as well as licenses to design and manufacture products for Disney™, Baby Einstein™, Oball™ and Taggies™.
Kids II's international affiliate operations are located in Australia, Canada, Europe, China, Hong Kong, Japan, Mexico and South Africa. Visit http://www.kidsii.com