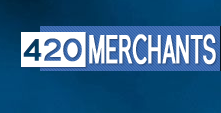 "420 Merchants is a processing solution that will hopefully put an end to the scrutiny that many canna-businesses have to face. Between being labeled as a liability and threatened to be shut down, we want to provide compassionate processing."
(PRWEB) March 30, 2013
Known by many as certified and bona fide leaders in compassionate and innovative services within the medical marijuana industry, the Medical Cannabis Network has announced a joint venture with 420 Merchants to bring canna-businesses a safe credit card processing solution. By introducing to canna-businesses what could very well become the next big processing method of the future within the medical marijuana industry, 420 Merchants has now teamed up with the Medical Cannabis Network and is focused on providing medical marijuana dispensaries, collectives and wellness centers with a credit card processing solution that will keep the industry compassionate, discreet and safe from any legal issues or scrutiny that may arise.
420 Merchants is a company that was founded to protect the partnership formed between credit card processing companies and medical marijuana collectives. For the last four years, the Medical Cannabis Network has been devoting their time and energy to making sure that the patients and clients they have integrated within their medical family are always safe from being placed under any type of scrutiny by the law. Priding themselves for always being one of the most compliant and compassionate services, the individuals at the Medical Cannabis Network and 420 Merchants hope that this processing solution will finally shield the industry from being alarmed, paranoid or nervous about any potential cancellations on processing accounts.
As medical marijuana becomes such a widely contested topic across the nation and with many politicians and big businesses questioning the true value of a canna-business, these medical marijuana businesses suffer greatly by not being able to process their business transactions through a confident provider. 420 Merchants is the solution for businesses that are unable to find a credit card processing provider that will confidently do business with them. The company is extremely proud to introduce their compassionate and professional system to wellness and resource centers across the entire country and hopes to tackle an ongoing problem of processors questioning the integrity of compassionate medicine providers.
All payments transactions that occur through the 420 Merchants processing solution are secure, efficient and completed in a timely manner, ensuring this solution is both formidable and easy-going for patients and collectives alike. Clients of the 420 Merchants network are evaluated in order to have specific needs pointed out and recognized so that a service solution that makes the most sense of canna-businesses' needs are identified and tackled. Team members are almost always readily available for any questions that may be presented, and they are fully equipped with the proper knowledge and tools to take any medical marijuana business to the next level of efficiency.
The partnership formed between The Medical Cannabis Network and 420 Merchants credit card processing is one of a solidified and thorough nature that does not stray one single bit from it's initial mission of legitimizing the industry one step at a time. By being able to provide medical marijuana collectives, dispensaries, resource centers and holistic clinics with a reputable and definitive credit card processing solution, the cannabis industry will no longer have to function in a grey area of uncertainty.
420 Merchants is a company that is full of the necessary experience and resources to assist canna-businesses with increasing their receptiveness, overall revenue and complete productivity. They are taking the "high-risk" category title that most providers place on canna-businesses and are slowly trying to gain acceptance for those who deserve it most. Beggars cannot be choosers when looking for credit card processors within the medical marijuana industry, especially with the current landscape of the industry. 420 Merchants in association with The Medical Cannabis Network, is almost certain to make a splash within the industry while at the same time garner the recognition they deserve for eliminating such an enormous grey area of processing uncertainty.