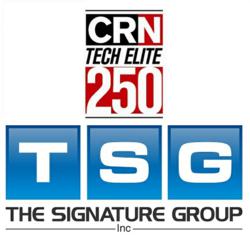 Vienna, VA (PRWEB) March 27, 2013
The Signature Group, Inc. (TSG) http://www.teamtsg.com, a leading provider of information technology consulting, implementation and managed services, is pleased to announce that it has been named as a CRN Tech Elite 250 Company for the THIRD year in a row. Organizations selected for the prestigious list represent an elite group of IT Solution Providers that have invested in the training and education needed to earn the most technical certifications in the IT Channel.
In compiling the list, CRN editors worked with the UBM Channel research group and a team of outside experts to define the most customer-beneficial technical certifications in the IT channel. These technical certifications have enabled solution providers to deliver premium products, service and support to their North American customers.
The Signature Group shows its dedication for continued growth in the technology field through the following certifications and partnerships. These achievements, along with their persistence to deliver above and beyond their competition, have positioned them on this prestigious honor roll:

Microsoft Gold Partner
Cisco Silver Partner
Cisco Advanced Wireless Specialization
Cisco Advanced Security
Cisco Advanced Unified Communications
Cisco Advanced Data Center Networking Infrastructure
Cisco Advanced Routing and Switching
Cisco Advanced Services Partner
Cisco Managed Services Master Channel Partner
VMWare Enterprise Solution Provider
HP Preferred Partner
NetApp Silver Partner
"The 2013 Tech Elite 250 list recognizes an exclusive group of solution providers that have invested in training and technical know-how to help their customers understand the benefits of some of the most sophisticated technology deployments in the market – and have shown a dedication to helping customers innovate while reducing costs," said Kelley Damore, Senior Vice President, Editorial Director at UBM Tech Channel. "By identifying and adapting to the skills and training needed to best serve today's customers, members of the Tech Elite 250 have proven their commitment to delivering the products and services that today's customers value most."
To view a sample list of winners please visit http://www.CRN.com. View the full list in the CRN Tech News app, available for the iPad at http://go.crn.com/TE250-13 or for Windows 8 devices at http://go.crn.com/CRNWin8.
"The Signature Group is honored to be named a member of this elite community of systems integrators for the third year in a row. We are deeply involved in this industry and will continue to provide our clients with the knowledge necessary to make sound technology decisions for the future of their company" commented Michael C. Perdue, Chief Executive Officer at The Signature Group.
About TSG
The Signature Group, headquartered in Vienna, Virginia, provides IT consulting, integration, support, and managed services that increase our clients revenue opportunities, decrease operating cost, increase organization efficiency and mitigate risk. TSG provides IT solutions and managed services to enterprise clients, telecommunication service providers, small and medium sized businesses, financial institutions, medical facilities, associations and non-profits as well as Federal, State and local governments and agencies. Please visit http://www.teamtsg.com or call 1-800-953-3692 for more information.