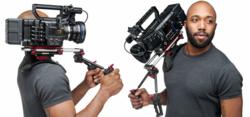 "...the result is a much lighter, cheaper, lower profile baseplate that works perfectly with the Sony F5 and F55 cameras," says Patrick Fee, Product Designer at Zacuto USA
Chicago, IL (PRWEB) March 27, 2013
Recently, Sony revealed two CineAlta 4K cameras, the PMW-F55 and the PMW-F5. With this, Zacuto got a visit from Kari Hess with Abel Cine Tech to demonstrate the new Sony F5 along with the features of the camera, rig set up and much more.
Several features of the Sony F5 & Sony F55 include a Super 35mm sized 4K sensor with 8.9 million effective pixels, 2 XLR inputs, professional and still lens mounts, a new camera menu interface, 14 stops of latitude, in camera recording to Sony's new SxS Pro+ memory cards in a variety of codecs and the ability to record 4K/2K RAW to the new modular Sony AXS-R5 recorder.
With the Sony F5 and F55 cameras in high demand, Zacuto has produced a rig and accessories to accompany these. The first accessory is the new Sony F5/F55 baseplate. With the Sony F5/F55 baseplate, any rig desired can be made. The Zacuto product designers favor the Sony F5/F55 Recoil rig. The Recoil Rig was manufactured to position the camera so it sits on the shoulder using the Zacuto QR Shoulder Pad, making the rig compact, balanced and lighter. Zacuto expects the F5/F55 Recoil Rig to hit the market in May 2013.
Patrick Fee, Product Designer at Zacuto says, "We had to make a new part so we could get the optical center of the F5 and F55 cameras to the industry standard height in relation to our 15mm lightweight rods. The Universal Baseplate couldn't quite get us where we needed to be so we figured out a way to make a lower profile top plate and use the rods base of the Universal Baseplate." Fee went on to say that "the result is a much lighter, cheaper, lower profile baseplate that works perfectly with the Sony F5 and F55 cameras. With our products being modular, the new baseplate was the only new thing we needed to have so these Sony cameras can work with all of our gear."
To find out more about the Sony F5 and F55 camera, take a sneak peek at Zacuto's video visit by Abel Cine Tech and learn more here, http://www.zacuto.com/sony-f5-sneak-peek.
About Zacuto
Zacuto, located in Chicago, Illinois, is known for their "Made in the USA" brand of high quality, originally designed camera accessories. Their camera rental house division builds custom camera packages and delivers nationwide. Zacuto Films produces original programming with EMMY's won in 2010, 2011 & 2012 (Midwest region) http://www.zacuto.com or follow @Zacuto on Twitter.