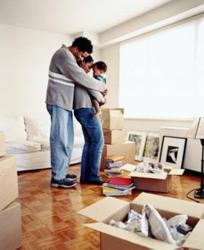 moving made easy with apartment movers
(PRWEB) March 29, 2013
Come try the Apartment Moving Company experience! Moving to a brand-new household can be an exhilarating new phase in life. It can also cause anxiety due to concern about costs and the safe transport of belongings. However, with the new moving services offered by Apartment Movers the move will go as smoothly as possible and there is no worry about extra or hidden costs.
There are a range of new services offered to match clients' requirements:
Local Moving - Local moving may require less labor than a long distance move, but an average household will still have several rooms full of furnishings and personal possessions to pack, haul, unpack and reorganize. Even with the help of family or friends, accomplishing these momentous tasks can be a daunting task. The new services offered by Apartment Movers can put a client's mind at ease and do the "dirty work" for them. Apartment Movers new services now allow a customer to choose from a wider range of services - whether that includes packing, loading, unloading and reassembly or simply just transporting, they can offer the service needed. Apartment Moving Company can customize an estimate for any moving job.
Long Distance Moving - When a household moves across country, many details have to be taken into account. Before the new range of services, customers could not customize what they needed to complete their move. Even if it is just moving to the other side of a state, these details can seem overwhelming. Now, having an expert like Apartment Movers customize the needed services, and price, moving clients spend time with friends and family before the move, in order to make some happy memories before their journey begins.
Professional Service - As professional moves, the service they provide to a client counts, including handling complex details involved in moving and offering a guiding hand to help them along their journey, wherever their destination leads. Whether they need helpful support services or the entire package, Apartment Movers will get the job done, safely and securely.
About Apartment Movers
Apartment Movers has operated tirelessly to assist the nationwide movers for local and interstate relocation, helping communities by satisfying all moving needs. As bonded and insured movers with experience in the moving industry, they have the knowledge needed to get the job done and to get it right the first time. Like any service company should be, their philosophy starts with customer satisfaction. This makes Apartment Movers the local or long distance company to rely on.