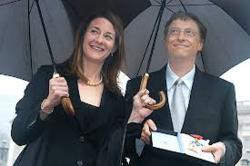 (PRWEB) March 27, 2013
Peculiar Magazine presents to you hot news which is; The computer whizz - the world's second richest man - calling on geeks and the general public to use technology to improve rubber contraceptives. This was made known on the 26th of March, Peculiar Magazine presents to you excerpts of the article below, find the rest of the news on our website.
Bill Gates charity is offering a $100,000 (£66,000) which was made known on the 26th of March,2013 and can be found on science world report, the money serves as a start-up grant to anyone who can create a condom better than the latex sheaths used by punters today after investigations peculiar magazine found out there was a further funding of a million dollars - £660,000 - could follow to develop the best idea.
The Bill & Melinda Gates Foundation's call for a Condom 2.0 is part of its Grand Challenges Explorations initiative, a grant programme aimed at funding projects that improve the lives of the world's poor as reported by PM correspondent.
Though condoms are cheap and reliable, too many men think they spoil the fun - leading to unwanted pregnancies and the devastating spread of disease, Bill Gate says.
Stephen Ward, a programme officer for the foundation, said: "We acknowledge that we have condoms today that are very effective. But they have a drawback, where they have diminished sexual pleasure for the user.
"It may seem like a small thing, but it prevents people from using them consistently. The more we can get people to be more consistent, the better."
Find the rest of the story on Peculiar Magazine's Website through this link
Source: SCIENCEWORLDREPORT Date of Publication:25/03/2013
Title: Bill Gates Offers $1 M to Invent World's Next-Generation Condom
Thank You