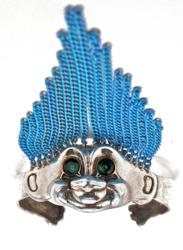 "I enjoy combining unusual elements which normally would not go together." Michael Raymond
New York, NY (PRWEB) March 28, 2013
Michael Raymond Pereira, owner and designer of Michael Raymond Designs, announces the Spring 2013 launch of his eponymous brand of limited edition fine jewelry at his e-commerce site http://www.michaelraymonddesigns.com. Pereira's collections are comprised of fine silver, brass and gold plated jewelry with various edgy and innovative designs that challenge the normal perceptions of function, form, beauty and adornment. Every piece is handmade in New York and available on a limited edition basis through the brand's own e-commerce site http://www.michaelraymonddesigns.com.
Raised in a family of jewelers in Miami, Michael Pereira was destined to become a jeweler. He grew up shadowing his father Raymond Pereira on the bench, learning the intricate arts of fine jewelry craftsmanship. In 2005, Raymond passed way, leaving his entire studio – bench, tools and molds – to Michael. Michael shipped all of the equipment to New York City and set up his own studio to revive his father's legacy and develop his own distinctive voice as a jeweler.
"I enjoy combining unusual elements which normally would not go together," says Pereira. "I love to re-invent objects that capture my attention, like oddly shaped animal bones or pieces of ammunition. I imagine new functions for these things and use them to create a surprising new sense of style."
Pereira finds beauty in functional forms. His "Animus" collection celebrates the clean lines, practical allure and lack of superficiality in the animal kingdom. He repurposes a wide variety of animal body parts, picked up on various travels around the globe, morphing them into striking accessories that become instant conversation pieces. Snake rattlers cast in fine silver create an edgy, unique two-finger ring, while a prominent large horse tooth, supported by curved raccoon penis bones, becomes a powerful silver bangle, suitable for a male or female wrist.
Pereira also enjoys a whimsical sense of humor. His "Tongue in Cheek" collection re-invents playful objects for a light-hearted approach to fashion. Toy hot dogs, flying penises and I-pod head phones become pendant necklaces or drop earrings. Pereira was once fascinated by a barbed wire swizzle stick at Cowgirls NYC, and it now finds a permanent home in cast silver re-imagined as a bangle and a ring. Even his version of logo design illicits charm as the so-called "M&M bracelet" uses double facing M's (for Michael) to create a luxury logo pattern.
The Armour collection also inspires smiles as weaponry becomes wearable in the form of bomb drop earrings or missile rings. A replica of his father's naval aviator wings makes a meaningful pair of cufflinks and a useful gift for veterans.
Discover an entire world of enchantment and a refreshing sense of style at michaelraymonddesigns.com
Check out the April issue of Seventeen Magazine to see MRD's Skate or Die ring on Ashley Benson in the cover story!