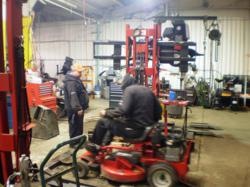 Routine maintenance is very important in keeping your machine running safe, efficient and like new so you can get years of service out of it.
Chesterland, OH (PRWEB) March 27, 2013
Marshall Power Equipment is in full swing tuning up mowers, tractors, and all two-cycle equipment for the spring season. It's the perfect time to bring your equipment in for a spring tune-up. With little to no back log, all major replacement parts in stock and pre-season service specials.
Every year, power equipment owners should change the spark plug(s), air filter(s), fuel filter, engine oil and check to make sure the gasoline is still good. The most volatile parts of the gasoline may evaporate over a period of a month, increasing the "gumminess" of the tank contents. If this occurs with a carburetor, it will clog the small ports inside of the carburetor, which will not allow smooth fuel flow to the engine. If this happens, Marshall Power Equipment suggests that the carburetor be cleaned or replaced.
Routine maintenance on outdoor power equipment is something almost everyone can do in the garage or driveway. Ensure that the replacement parts are correct for the model by contacting a local dealer. Marshall Power Equipment employees will give knowledge and correct parts that are needed to perform the routine maintenance on all power equipment.
Established in 1954, Marshall Power Equipment continues to be Northeast Ohio's headquarters for outdoor power equipment. Marshall Power Equipment offers new equipment, such as Stihl, Echo, Husqvarna, Toro, Gravely and Exmark mowers. Family-owned and -operated, Marshall Power Equipment provides the best brands and second-to-none top notch service that is hard to find these days. The Marshall people will continue to strive, pushing ourselves to make customers and service our "number one" priority into our next anniversary of 60 years, 2014. Make sure to like Marshall Power Equipment on Facebook for your chance to win a $50 gift certificate.