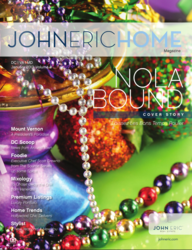 "We are proud and humbled at the two huge wins for John Eric Home," says John Eric, Publisher. "The magazine delivers my vision each and every month with stunning clarity and purpose. These awards are a testament to that fact."
Washington, D.C. (PRWEB) March 27, 2013
John Eric Real Estate today announced its JOHN ERIC HOME magazine recently was honored with two 2013 North Los Angeles Region ADDY awards for Distinction and Best in Show.
The awards were given for John Eric Home magazine's volume eight, distributed in January 2013. Hillary Broadwater and QM Design Group is the creative design team behind the publication.
The ADDY Awards are administered and judged by the American Advertising Federation. This is the world's largest advertising competition with over 50,000 entries annually. It marks the most outstanding and creative advertising, design and media in the United States. By winning this local category, the magazine is automatically entered into the West Coast regional ADDY awards, the next stage of the competition.
"We are proud and humbled at the two huge wins for John Eric Home," says John Eric, Publisher. "The magazine delivers my vision each and every month with stunning clarity and purpose. These awards are a testament to that fact."
John Eric is a Vice President at TTR Sotheby's International Realty in Washington, D.C.. Eric is a prominent real estate agent in the Washington, DC metropolitan region and is publisher of the monthly regional lifestyle magazine. John Eric Home is a custom-designed magazine which highlights local Washington DC personalities, businesses, restaurants and real estate.
The winning issue is located is available at johneric.com or by clicking here.