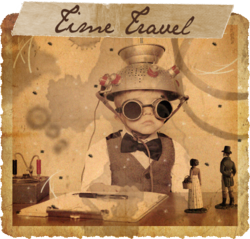 The beauty of our time travel is that we bring the past to the present
Spencerville, Ontario (PRWEB) March 28, 2013
Travel isn't just about going to a place. It's about experiencing something. Why stop at a passive visit somewhere, taking in the sights but not really immersing in the culture? Time travel is about to change the way we vacation.
A new tourism-focused initiative in Eastern Ontario aims to facilitate just that – unique heritage experiences in the region.
As part of an overall strategy to attract heritage tourists for a month of special programming, A Guide to Time Travel promotes ideas to help people step back into local history.
Converging this year are the bicentennials of both the publishing of Pride and Prejudice and the Battle of Crysler's Farm. The first attracts fans from all over the world, while the second is part of a well-funded commemoration for the War of 1812. Together, the two anniversaries are creating a brilliant world of living history along the St. Lawrence River this summer.
There is a catch. This time portal is limited. For just one month alone, from June 14 to July 14, visitors can experience the wonders of life 200 years ago in early Upper Canada.
Built around War of 1812 Bicentennial commemorations and aimed at Jane Austen fans, A Guide To Time Travel showcases some of the best heritage holdings in Eastern Ontario and offers to take people back to Upper Canada in the early 1800's.
As the guide explains "The beauty of our time travel is that we bring the past to the present, meaning you can enjoy as much modern convenience as you like while visiting our history. Conversely, you can immerse yourself as deeply in our past as you wish: sail on a tall ship, sleep in a canvas tent, fight in a battle, cook period meals over an open fire, or sew your own garb."
A Guide to Time Travel also offers visitors suggestions on what to wear and how to behave in 1813, helping to build an appropriate historic character with which to jump back in time.
Ultimately, the guide encourages visitors to participate in upcoming events such as the TALL SHIPS® 1812 Tour in Brockville, the Spencerville Heritage Fair, and the Battle of Crysler's Farm.
While not a scientific approach, time travel as it is promoted in the guide seeks to create an atmosphere for visitors to transport themselves to a different era.
In addition to the guide, a special banner program at featured sites will also be rolled out along the St. Lawrence River. Time Travel Hotspot signs will indicate which sites help people visit 1813 this tourism season.
A virtual source, A Guide to Time Travel is a responsive website, meaning it automatically adjusts across all platforms, both on computer and mobile devices.
The St. Lawrence War of 1812 Bicentennial Alliance created the guide to help promote heritage tourism and commemorative events this summer.
A Guide to Time Travel can be found at http://www.timetripper.ca.