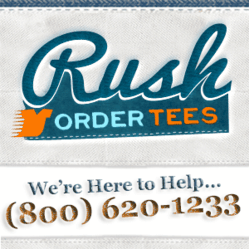 The new design studio is not merely a visual or design improvement; it very tangibly enhances our visitors' online experience
Philadelphia, PA (PRWEB) March 28, 2013
After an exhaustive model search, multiple photo shoots and months in development, Rush Order Tees has launched a new version of their t-shirt design studio with live models. The studio has historically featured CGI representations of people and products on which visitors could create unique designs. The updated studio incorporates live models in actual products in a wide assortment of colors to offer an enhanced creative experience.
Visitors can choose a shirt style, change its color, and add text and graphics. It is an integrative approach that allows people to visualize their final product without placing an order.
The idea behind the live-model studio is for an improved user experience. The new display shows a real view of the products that the customers are designing, being worn by professional models. The fit of a specific style is straightforward and not up to interpretation. The fabric is easy to analyze, down to color, texture – even stitching.
"The new design studio is not merely a visual or design improvement; it very tangibly enhances our visitors' online experience," says Chief Strategic Officer, Ron Reed. "This extends to our team of Client Design Project Specialists and Tee Geniuses by offering a drastically improved visual resource to build the customers' product knowledge. A picture is worth a thousand words."
It's not just limited to one specific model either – the studio now includes adult males, females, as well as boys and girls of varying ages. The process of implementing the new design studio took months to develop, with many technical elements coming into play to allow for a "real" look. Rush Order Tees is proud to announce the official launch of the studio, hoping to encourage more people to design custom apparel online.
About Rush Order Tees
Rush Order Tees, a Printfly company, was founded over ten years ago as a family-owned business in Philadelphia. Today, it has developed into one of the top providers of custom apparel in North America.
Their goal is to provide excellence in service to every customer. Producing over 250,000 prints per day, they provide each customer with any delivery date needed to ensure a successful event without a missed deadline. Their repeat clients include brands such as Amazon, Google, HBO, as well as nonprofit organizations like Susan G. Komen's Race for the Cure and the National Institute of Health.
Learn more and design your own t-shirts in Rush Order Tees' Design Studio at http://www.rushordertees.com/design-t-shirts