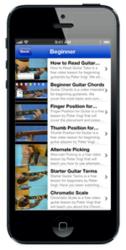 Atlanta, GA (PRWEB) March 27, 2013
Music instruction producer, Watch & Learn Inc., is announcing the release of a free guitar lesson app for iPhone and iPad. The Free Guitar Videos app contains video lessons and tabs for beginning, acoustic, electric, blues, and many other styles of guitar. The wide variety of lessons featured in the app make it useful to the beginning guitarist or the intermediate to advanced player who needs help creating solos. The lessons are separated by genre and topic so the student can quickly and easily locate the material they are interested in.
The lessons range from five to ten minutes in length and cover beginner techniques, music theory concepts, and the stylistic secrets of guitar legends. The teachers provide step by step instruction and often present the lesson material along with a rhythm track.
The lessons contained in the app were originally created for the popular freeguitarvideos.com website. Featuring professional guitar teachers (Peter Vogl, Jody Worrell, Guy Fenocchi, and Matthias Young) and time tested material, the lessons cover the essentials of learning how to play guitar. Each lesson features studio quality video and audio so that each technique can be displayed correctly. Further instruction can be gained from the written explanations and guitar tabs.
Watch & Learn Inc. has been creating music instruction products for 30 years and served more than 3 million customers. The freeguitarvideos.com website was created by Watch & Learn in 2001 and has provided free guitar instruction that has been viewed over 50 million times.