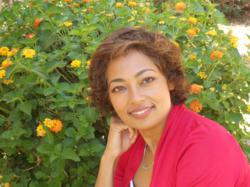 I think we've all been struggling to put things together, but didn't want to believe the facts
Scottsdale, AZ (PRWEB) March 28, 2013
Natasha Deonarain, MD, MBA and founder of the Health Conscious Movement is warning Americans to get out of their crashing healthcare system now. Speaking to an audience of doctors, alternative healers, administrators and non-profit medical foundation members, she demonstrated clearly how each of the sub-components of America's healthcare system have been set-up under a drive for extreme profit which keeps Americans sick and poor. Her conclusion that policy makers have been ineffectual to correct America's healthcare system's implosion was met with strong agreement from audience and foundation board members. She went on to state that if individuals continue to depend on the system in its current state, they will likely get sicker and poorer, while believing they have been given health care options.
"I think we've all been struggling to put things together, but didn't want to believe the facts sitting right there front of us," states Dr. Deonarain. "And the facts are that we don't need insurance for health, we don't need drugs to fix us into optimal health, and we don't need disease-trained doctors to remain at the center of a broken healthcare model. We need a different understanding which begins with collaboration across all healthcare fields and total integration among practitioners."
Dr. Gladys McGarey, founder of the American Holistic Medical Association (AHMA), author of numerous books including The Physician Within You, and pioneer of using acupuncture in birthing, agrees that a new perspective which begins in health first rather than eliminating disease is required.
"America's medical system is based on an old war model," states Dr. Gladys McGarey. "We have been focusing our power on killing bacteria and viruses, winning a war on cancer, and battling disease at every point. It's time to focus on life and learn how to live well."
While Dr. Deonarain's statements may seem controversial, evidence from the Commonwealth Fund Commission on a High Performance Health System National Scorecard (2010) shows that America scores last on indicators related to health quality, accessibility, equity, efficiency, expenditures and our capacity to lead long, healthy , productive lives. Drawing from annual financial statements from key profit stakeholders like Fortune 50 health insurance companies and pharmaceutical giants, as well as industry data related to malpractice and physician compensation for fix, cure and cut procedures, she concludes the only way for Americans to find optimal health is to get out of their healthcare system now.
Her solution once individuals have opted out of the system is for them to learn a new way of thinking based in the practice of health behaviors, rather than focusing money and efforts on the fear of disease. This practice, she states, will bring their minds in alignment with health and improve long-term outcomes, reverse diseases such as obesity and diabetes, and dramatically reduce overall healthcare costs.
ABOUT THE HEALTH CONSCIOUS MOVEMENT
The Health Conscious Movement has as its mission to assist individuals, professionals, practitioners, schools, institutions, organizations and communities in understanding a new paradigm of health built upon 3 key concepts: 1) Health is first a state of mind 2) Health is life and includes every aspect of life and 3) Health is determined by the individual. More information is found on the website at http://www.health-conscious.org or calling Mary Zook at 602-708-2911.
DR. DEONARAIN'S BIO
Dr. Natasha Deonarain is a qualified medical doctor who has practiced for over 20 years. As a key thought leader in her industry, she has been speaking, writing and blogging about healthcare reform, industry trends, and the paradigm shift needed for Americans to understand how they can create a very different health future for themselves, and their country. She is author of The 7 Principles of Health: Your Call to Health Consciousness, a book targeted for individuals to empower themselves once they have elected to get out of America's healthcare system.
ABOUT THE GLADYS TAYLOR MCGAREY MEDICAL FOUNDATION:
The Gladys Taylor McGarey Medical Foundation promotes physician training, patient awareness, and practices for personal health that encompass the whole person -- including spiritual, emotional and physical health. Founded in 1989, its work continues in the U.S and around the globe, teaching doctors, encouraging conscious birthing, caring for the children of lepers in India, and through the Afghani Women's Project.
To order a copy of The 7 Principles of Health, please visit our website at http://www.health-conscious.org or email http://www.7poh.com.