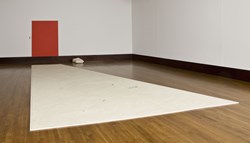 Indianapolis, IN (PRWEB) March 28, 2013
The Eiteljorg Museum of American Indians and Western Art is the only place on Earth where guests can see The Grateful Dead singer Jerry Garcia's "Tiger" guitar, 62 body bags hanging in a maze-like formation and hundreds of pounds of rice covering half of a gallery floor. Here's what's in the Eiteljorg galleries this Spring:
Saturday, March 30
Antique Arms Collectors Show
10 a.m. – 4 p.m.
Free with general admission to the museum.
Members of the Indiana Antique Arms Collectors Association will present a show of firearms and related artifacts from their personal collections. Frontier, military, sporting and hunting arms related to the West will be a special feature.
Saturday, April 6
Contemporary Art Installation
Home and Garden, by Edward Poitras (Gordon First Nation, born 1953)
Hurt Gallery
Origami-styled dollar bills, 400 pounds of scattered rice and a symbolic doorway painted on a gallery wall; brought to life from the imagination of contemporary Native artist Edward Poitras. His installation, "Home and Garden," makes a return to the Eiteljorg beginning April 6. Poitras is a First Nations artist from Canada. He was among five artists who comprised the Eiteljorg's 2009 Fellowship for Native American Fine Art.
Contemporary Art Installation
Manitoba, by Bonnie Devine (Ojibwa, born 1952)
Harvey Gallery
Sixty-two body bags will hang inside the Eiteljorg's Harvey gallery. They tell the story of how Canada's government answered the call for help when the H1N1 flu pandemic swept across a Native community in northern Manitoba in 2009. According to Eiteljorg contemporary art curator, Jennifer McNutt, the act is reminiscent of Native peoples being given blankets that were full of smallpox. She writes, "Governments are clever, but rarely compassionate, especially to the first peoples."
Saturday, April 13
Film Screening: "The Wrecking Crew"
Guitars! Roundups to Rockers programming
4p.m.
Included with general admission to the museum.
"The Wrecking Crew" was a nearly-anonymous group of 1960s-era Los Angeles studio musicians known as Phil Spector's "Wall of Sound." They played on hits for the Beach Boys, Frank Sinatra, Sonny and Cher, The Monkees, Gary Lewis and the Playboys, the Mamas and Papas, Tijuana Brass, Ricky Nelson and Johnny Rivers. The film includes interviews with Brian Wilson, Cher, Nancy Sinatra, Herb Alpert, Glen Campbell, Gary Lewis, Leon Russell as well as Crew members themselves. Guests are welcome to view the Midwestern premiere of "The Wrecking Crew," and meet producer/director Denny Tedesco, who will introduce this story. Interested media outlets may request an interview with Tedesco through Eiteljorg PR Manager, DeShong Perry, prior to this event.
Guitars! programming April 13
Guitars!: Roundups to Rockers continues its run at the Eiteljorg through August 4. More than 100 guitars—owned by greats including Roy Rogers, Charlie Christian, Jimi Hendrix, Kurt Cobain, Woody Guthrie, Buddy Holly, Les Paul and others— are on display.
Enjoy additional opportunities invite guests to live out their rock-star dreams. They can start with a rock 'nʻ roll airbrush tattoo and then get in line for a guitar-wielding caricature. They will also get to enjoy free concerts from local bands.
Schedule
12 – 2 p.m.
Play the guitar!
Learn the basics with professional guitar instructor, Benito DiBartoli.
12 – 4 p.m.
Punch a guitar pick; design a rock band poster; be a Guitar Hero; test out different instruments at the Fender Guitar Corral and more.
12:30 – 3:30 p.m.
Rockin' tattoos and rock star caricatures with artist, Mike Altman
1 – 1:45 p.m.
Ask an Expert!
Curator Johanna Blume will be on hand to answer guitar-related questions.
1 – 3 p.m.
Jennifer Complo-McNutt, curator of contemporary art, will unveil the mysteries of the contemporary art collection.
1 – 3 p.m.
Check out the Indy music scene.
Local bands, Old Truck Revival and Stockwell Road will take the stage in April.
The Eiteljorg Museum seeks to inspire an appreciation and understanding of the art, history and cultures of the American West and the indigenous peoples of North America. The museum is located in Downtown Indianapolis' White River State Park. For general information about the museum and to learn more about exhibits and events, call (317) 636-WEST (9378) or visit http://www.eiteljorg.org.
###