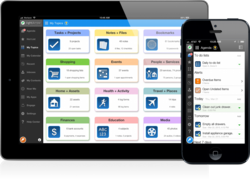 We are truly excited to have closed this funding round in just two weeks, allowing us to quickly proceed, and in fact speed up several things we've been anxious to get into the hands of our existing and future users.
Austin, Texas (PRWEB) March 27, 2013
LightArrow, Inc. announced today that they concluded a new million dollar round of funding. This is the second funding event for the company since its founding in 2010. The company plans to deliver additional apps and platform support starting in the second quarter of 2013. LightArrow's investors from its first round of funding decided to increase their investment in the company, demonstrating their faith in the team, the vision, and the market opportunity.
"This is the year that our vision as a multi-app, multi-platform, and multi-market-segment company comes to fruition," stated Adi Mishra, CEO of LightArrow. "We are truly excited to have closed this funding round in just two weeks, allowing us to quickly proceed, and in fact speed up several things we've been anxious to get into the hands of our existing and future users. As impressive and powerful as it is, our flagship app LifeTopix is just the tip of the iceberg." Mishra was previously a founder and CEO at Legadero Software, which was acquired by Borland Software in 2005, and part of the management team at Tivoli Systems when it was acquired by IBM in 1997.
LightArrow plans to introduce several new apps in Productivity and other categories for consumers, and a new line of business apps across several verticals and company sizes. The company is working on releasing its initial set of apps in the Windows 8 Store in the middle of the year, and in multiple Android marketplaces later in the year. The company is also working on expanding its desktop class software, making its apps ubiquitous across computing devices.
"Over the last three years, we have invested in a significant set of technologies that are strategic to our company's offerings, both now and in the future," said Ray Leyendecker, CTO of LightArrow. "LifeTopix, now at version 6.0, has allowed us to fine tune and solidify significant portions of our technology and features with nearly 100,000 highly engaged users, while some of our more recently developed technologies will be available with our new apps over the next few weeks and months." Leyendecker has previously served as CTO at successful software companies, both as a co-founder and as a member of the executive team.
Standing apart from a crowd of overly simplistic productivity apps, LightArrow has developed and employed technologies typically utilized in powerful, business class, enterprise software, with the usability and personalization of modern post-PC devices. Some of LightArrow's key technologies already included in its flagship app LifeTopix are:

An industrial caliber and extensible data model for connected data, topics, resources, people, actions, integrations, reporting, metrics, workflow, user categories, and personalization
Industry leading integrations with best-in-class software from Dropbox, Evernote, Asana, Google, Toodledo, Facebook, and Twitter
Device level integrations with Media, Calendars, Contacts, Maps and Location, Reminders, and Notifications
Ability to launch 3rd party native and HTML5 apps, in context
Advanced syncing technologies utilizing Dropbox, Google, and iCloud
Sharing and collaboration via Email, Messaging, Facebook, and Twitter
LifeTopix is available from the Apple App Store as a free update for anyone with previous LifeTopix versions. For new users, LifeTopix is available for a limited time at a promotional price. As a universal app, a single purchase entitles the buyer to use this top productivity app on their iPhone, iPad, and iPod touch.
Headquartered in Austin, Texas, LightArrow, Inc. (http://www.lightarrow.com) was founded in 2010 by a team of visionaries and repeat entrepreneurs who have dedicated their professional careers to the challenge of leveraging state-of-the-art information technology to solve problems that matter to people. Their mission is to build intelligent, world-class software products that dramatically improve their customers' everyday lives. The company has extensive experience delivering quality solutions to some of the most sophisticated customers in the world and are very proud of their successful track record.
Copyright © 2013 LightArrow, Inc. All Rights Reserved. Apple, the Apple logo, iPhone, iPod and iPad are registered trademarks of Apple Inc. in the U.S. and/or other countries. All other trademarks are the property of their respective owners.