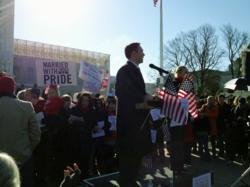 LULAC is committed to advancing the needs of all Latinos, including the LGBT community, and today we stand together as a community demanding justice for all.
Washington, D.C. (PRWEB) March 26, 2013
While the U.S. Supreme Court hears oral arguments on Proposition 8 on March 26 and on the Defense of Marriage Act (DOMA) on March 27 organizations which include LULAC, The Hispanic Federation, GLAAD, The National LGBT Latino Human Rights Organization, The Latino LGBT History Project, Unid@s, and faith-based organizations will hold a rally in support of universal marriage equality. LULAC's national executive director, Brent Wilkes and the Hispanic Federation's senior vice president, Frankie Miranda, will provide remarks at the rally.
LULAC has continuously worked to advance equal justice for all Latinos, including the LGBT community. In 2006, we launched the LULAC Equality Project in Dallas, Texas. In 2012, LULAC unanimously passed a national resolution for marriage equality and was a signatory to the amicus brief that was filed by the National Center for Lesbian Rights. 54% of Latinos support the freedom to marry and 2012 elections exit polls indicated that 59% of Latino voters believe their states should recognize same-sex marriage. It is in this spirit that the country's most prominent Latino organizations speak at Tuesday's rally.
"LULAC is committed to advancing the needs of all Latinos, including the LGBT community, and today we stand together as a community demanding justice for all," said Brent Wilkes, National Executive Director.
"For more than 20 years, the Hispanic Federation has advocated for fairness, justice and equality for all Latinos," said Jose Calderon, President of the Hispanic Federation. "We are committed to making sure all members of the Latino community have the necessary social, legal and economic rights and opportunities they need to protect and provide for their families. For our community and nation, marriage equality is a necessary step in achieving that goal."
"Since our inception in 2007, Unid@s, The National Latin@ LGBT Human Rights Organization has been committed along with our sister Latin@ organizations and LGBT organizations in securing marriage equality for everyone. Marriage equality in the U.S.A. is for everyone, not just for some," said Board Co-Chair Jorge Cestou.
If Proposition 8 is overturned then the precedent may be set for overturning bans on same sex marriage in other states. Presently, the Defense of Marriage Act (DOMA) that was signed into law by President Clinton denies same-sex couples who are married federal benefits that are available to married heterosexual couples. However, should DOMA be ruled unconstitutional the federal government may have to recognize same-sex marriages at least to the extent of allowing them the same federal rights and benefits as heterosexual couples.
The national organizations present at the national rally in Washington D.C. are joined by local LGBT Latino advocates in over 150 advocacy engagements and rallies across the country. Organizations such as the Portland Gay Latino Pride, LULAC California Office in Sacramento, and Latino Equality Alliance in Los Angeles are among the many hosting advocacy events.
"In California, we are looking forward to putting Proposition 8 behind us and again allow marriage for same sex couples," states Ms. Ari Gutierrez, Co-Chair of the Latino Equality Alliance in Los Angeles. "A favorable decision on DOMA, the so-called Defense of Marriage Act, would make overturning Proposition 8 even better because same sex couples who legally marry in California will also have the opportunity to gain federal level rights benefits that even those who are currently married don't have."
###
About LULAC: The League of United Latin American Citizens (LULAC) is the nation's largest and oldest civil rights volunteer-based organization that empowers Hispanic Americans and builds strong Latino communities. Headquartered in Washington, DC, with 900 councils around the United States and Puerto Rico, LULAC's programs, services and advocacy address the most important issues for Latinos, meeting critical needs of today and the future. For more information, visit http://www.LULAC.org.
About the Latino GLBT History Project: The Latino GLBT History Project (LHP) is volunteer-led non-profit organization founded in April 2000 to investigate, collect, preserve and educate the public about the history, culture, heritage, arts, social and rich contributions of the Latino GLBT community in metropolitan Washington, D.C. To accomplish our mission, the LHP creates educational exhibits from our historical archives collection showcased at cultural events such as, a Women's History Month Reception, a Hispanic LGBTQ Heritage Reception and DC Latino Pride, and educational presentations at local and national conferences and through our online virtual museum at http://www.LatinoGLBTHistory.org. LHP also engages in advocacy campaigns and provides leadership development opportunities for metro DC's LGBT Latino community.
About the Latino Equality Alliance: Established after Proposition 8, the Latino Equality Alliance (LEA) includes BIENESTAR, The Wall/Las Memorias, HONOR PAC, Lambda Legal, Gamba Adisa and other Latino LGBT and ally organizations. A 501(c) 3 non-profit through its fiscal sponsor: JWCH Institute, Inc. and is funded in part by the Liberty Hill Foundation. http://www.latinoequalityalliance.com
About Portland Latino Gay Pride: Made up of community volunteers, in 2006 Portland Latino Gay Pride partnered with El Hispanic News and the Jupiter Hotel to organize the first Portland Latino Gay Pride (PLGP)–the goal, to recognize the talents and contributions of Gay Latinos and Latinas. Since then, PLGP has grown tremendously. This organization now holds members from various organizations that serve the gay, Latino and general population around Portland. One of PLGP's central goals is broaden the Pride experience in Oregon by bringing the community together. http://latinogaypridepdx.com
About Unid@s: The mission of Unid@s, The National Latina/o Lesbian, Gay, Bisexual & Transgender (LGBT) Human Rights Organization is to create a multi-issue approach for advocacy, education and convening of and for our communities. Guided by economic justice, feminist, environmental and pro-peace values, UNID@S joins a global effort to transform systems and policies to create the just and equitable World we know possible. http://www.unidoslgbt.com/