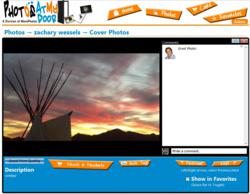 I tried Photos At My Door and couldn't believe I was able to buy a customized gift so fast. - Diane
Traverse City, MI (PRWEB) March 29, 2013
The new Facebook App called "Photos At My Door "allows anyone to browse their friends' albums and create photo products. Facebook hosts billions photos! It is one of the most popular places to put a person's favorite images. Now anyone can use those images to create prints, coffee mugs, mouse pads, iPhone cases, and more; using images and the images uploaded by a person's friends.
A quick search with Facebook for "photos at my door" will bring up the app. There are no fees or obligations to jump in, browse through all friends' photos in one spot, create photo products and see the images on them. It's designed to gift someone on their birthday with a great photo, sending mother a "thinking about you" present or even just to make some cool stuff for the individual.
"For me, the need for this product was obvious when I had my daughter," says Zack from MorePhotos. I would hear, "Send us photos" all of the time. I told my parents to just look at them on Facebook, but they wanted prints on the fridge or at work. I tried to help them navigate through saving the image to the computer, creating an account at an online print service, finding those images that were saved on their computer, uploading, etc., but it was too much. We came up with a super easy solution."
Images uploaded to Facebook can be at different image resolution, and different products require different size images. Sounds confusing right? Don't worry; notifications are generated automatically if an image isn't large enough for the selected product.
Go to http://www.PhotosAtMyDoor.com to get started today.