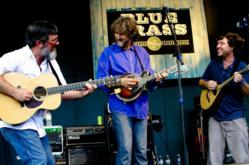 There's something for everyone, ranging from the weekend warrior and hard-core athlete to couples and families looking for a relaxing, yet action-filled getaway.
Gunnison-Crested Butte, CO (PRWEB) March 28, 2013
The Gunnison-Crested Butte Valley knows how to roll out the red carpet for summer and fall fun with an amazing array of one-of-a-kind festivals that reflect the lifestyle, natural beauty and Western friendliness of the Colorado Rocky Mountains. There's something for everyone, ranging from the weekend warrior and hard-core athlete to couples and families looking for a relaxing, yet action-filled getaway.
Gunnison Growler Weekend, Gunnison, May 25 – 27
The official kickoff of the summer season is Gunnison Growler Weekend, featuring three days of biking events and trail running races to celebrate Memorial Day weekend. The Half-Growler and Full-Growler mountain bike races on May 25 and 26 start downtown before heading out to Hartman Rocks Multi-Use Recreation Area, and the Growler Gran Fondo road bike ride travels from Gunnison to Mt. Crested and back on May 26. A Townie Takeover Ride on Sunday is a mellower option for all ages on cruiser bikes. Gunnison's IOOF Park and the adjoining street will be filled with food vendors, live music and a beer garden for athletes and the public to enjoy on Saturday and Sunday, and runners will be readying for the Sage Burner 25k and 50k trail running races at Hartman Rocks on Monday. For information, go to http://www.gunnisontrails.com (Half-Growler and Full-Growler), http://www.gunnisonmentors.com (Growler Gran Fondo and Townie Takeover Tour) and http://www.sageburnertrailrun.com (Sage Burner).
33rd Annual Crested Butte Bike Week, Mt. Crested Butte & Crested Butte, June 26 – 30
Crested Butte and Mt. Crested Butte are the proud hosts of the world's oldest mountain bike festival, which now also includes options for those who enjoy road biking, cruiser bikes, downhill and cross country. The arrival of the 19th annual Bicycle Tour of Colorado kicks off the festivities when 1,500 bicyclists and their support crews roll into town on June 26 and depart on June 28. The Chainless World Championships on June 28 is always a thrilling scene for riders and spectators, followed by the Wildcat 40 mountain bike race on June 29. If a one-speed cruiser is more your style, join in the fun and fund-raising for Adaptive Sports Center's annual Bridges of the Butte townie tour on June 29 – 30. Those who like the high-speed, adrenaline-fueled action of cross country and downhill mountain biking should check out the Big Mountain Enduro on June 29 – 30. For information, call (800) 545-4505 or visit the event's Facebook page.
11th Annual Gunnison River Festival, Gunnison, June 19 - 23
Gunnison River Festival offers a unique blend of hardcore and lighthearted recreation. The event kicks off on June 19 with a River Film Fest at I Bar Ranch hosted by Crested Butte Film Festival. On June 21, the Gunnison River Festival Extravaganza at Legion Park is a night of live music, a beer garden and event registration. For a full slate of river activities, head to Gunnison Whitewater Park on Saturday starting at 9 a.m. A fly casting accuracy challenge, competitive down river raft race, community float, kayak competition, boater cross, inflatable rodeo, river board/stand up paddling comp, a kids' zone and more are planned. On Sunday, the festival moves to nearby Curecanti National Recreation Area for flat water action starting at 8 a.m. A stand up paddle board race, kayak/canoe flat paddle race, open water swim competition and canine paddle ensure a fun day for humans and their furry friends. For more information, registration and a schedule, visit http://www.gunnisonriverfestival.com or call (970)901-6215.
17th Annual Crested Butte Music Festival, Gunnison Valley, June 30 – Aug. 11
The 2013 festival will showcase outstanding performers from all over the world and internationally acclaimed performers such as Boston Brass, American String Quartet, Takács Quartet, jazz legend Junior Mance, and opera stars Samuel Ramey and Sandra Piqueś Eddy. Celebrating its 17th year, CBMF also has bluegrass, opera and gypsy jazz mini-festivals that are part of the larger event. Rossini's "The Barber of Seville," a free family concert series on four Saturdays, six home soirée concerts and much more are on this dynamic event's six-week schedule. For more information and tickets, call (970) 349-0619 or visit http://www.crestedbuttemusicfestival.com.
113th Annual Cattlemen's Days, Gunnison, July 6 - 14
People who love the authenticity of the West, should plan on attending the 113th annual Cattlemen's Days at Fred R. Field Western Heritage Center and various venues around Gunnison. The event features a county fair, parade, live music and dancing, a horse show, cowboy poetry, horse races, and of course rodeo events sanctioned by the Professional Rodeo Cowboys Association. Family-friendly activities are spread throughout the nine days of Cattlemen's Days festivities, including rodeos scheduled for the evenings of July 11 – 13 and a Tough Enough to Wear Pink Concert and Auction on July 9, featuring Nashville singers/songwriters Kellie Pickler, Kyle Jacobs and Dean Dillon. For more information, call the Gunnison County Chamber of Commerce at (800) 814-8893 and visit http://www.cattlemensdays.com for a complete schedule.
26th Annual Crested Butte Wildflower Festival, Crested Butte, July 9 - 15
The historic mountain town of Crested Butte, which was designated the "Wildflower Capital of Colorado" by the state legislature in 1990, hosts this colorful festival during the peak of wildflower season. More than 200 individual events such as photography and art classes, 4 X 4 tours, hikes and flower identification walks, garden tours, cooking seminars and more focus on the magnificent sight of miles and miles of wildflower fields abloom in the area. For more information, call (970) 349-2571 or visit http://www.crestedbuttewildflowerfestival.com.
41st Annual Crested Butte Arts Festival, Crested Butte, August 2 – 4
Crested Butte Arts Festival is one of the biggest weekends of the summer, drawing world-class artists from all 50 states and several international exhibitors. Open-air booths line the five-block center of Crested Butte's National Historic District, featuring 175 of the nation's finest visual artists; music and entertainment; an art auction, chef and artist demonstrations; children's activities and a beer and wine pavilion. Immerse yourself in the visual arts with seminars, workshops, and temporary art installations and get your art on at our first annual Art Under the Influence kickoff celebration! Call (970) 349-1184 or visit http://www.crestedbutteartsfestival.com.
Car, Carving & Art Weekend, Gunnison, Aug. 15 – 18
This dynamic weekend for all ages includes the 26th annual Gunnison Car Show, High Octane Arts & Crafts Festival, and Carvin' Up Colorado. Most of the activities take place in the neighboring Jorgensen and Legion Parks, with a '50s-style cruise-in and dance on Main Street on Friday evening and a breakfast cruise to Crested Butte on Sunday morning. On Saturday, admire all the chrome during the open car show and browse the creations of 60 artisans from around the region at the High Octane Arts & Crafts Festival. From Aug. 15 – 17, 10 wood carvers from around the country will transform tree stumps into works of art that will be on permanent display in Legion Park and other community sites. For information, call (970) 901-6215 (carving) and (800) 814-8893 (arts/crafts) and visit http://www.gunnisoncarclub.com.
Fall Festival of Beers & Chili Cook-Off, Mt. Crested Butte, September 7
Get into the spirit of autumn with Mt. Crested Butte's annual Fall Festival of Beers & Chili Cook-Off held on Sept. 7 at the base of Crested Butte Mountain Resort ski area. Heat up by sampling great chili prepared by area cook-off contestants, cool off with beers poured by several microbreweries and savor live music all afternoon. For admission costs and times, contact the Crested Butte-Mt. Crested Butte Chamber of Commerce at (800) 814-8893 and visit the event's Facebook page.
Crested Butte Film Festival, Crested Butte, September 26 – 29
Always the last weekend in September, Crested Butte Film Festival takes place during the peak of fall foliage season. Expect four days of viewing the best of international cinema, discussing films with filmmakers and easily walking or riding a cruiser bike from venue to venue. More than 90 films will be screened ranging from narratives and documentaries to outdoor adventure and shorts. There will be bike parades, giveaways and pass options that make it easy and affordable to enjoy all four days, including events. There is no charge to attend a children's film program and several free filmmaker talks. Passes are available online at http://www.cbfilmfest.org, and individual tickets will be sold at the door. A complete schedule of events and list of films will be available online Sept. 1. For more information, call (303) 204-9080.
Visitor Information & Personalized Vacation Packages
To save on flights, hotel rooms, vacation packages, car rentals and more, call the Gunnison-Crested Butte Tourism Association reservation hotline at (888) 559-0841 or go to http://book.GunnisonCrestedButte.com. For destination information, call (800) 814-8893 or visit http://www.GunnisonCrestedButte.com.
About Gunnison-Crested Butte, Colorado
Nestled in a valley with nearly two million acres of pristine, mountainous wilderness, Gunnison-Crested Butte has a prime location in southwest Colorado. Winter sports enthusiasts know the area for its world-class alpine skiing and snowboarding, cross-country skiing, ice fishing and more. Fair-weather activities include mountain biking, hiking, wildflower and wildlife viewing, climbing, boating, whitewater rafting, kayaking, fly-fishing, camping and horseback riding. Year-round visitors enjoy distinctive restaurants, locally-owned shops, stimulating cultural opportunities and festivals galore ranging from the Crested Butte Wildflower Festival and Gunnison Cattlemen's Days to Crested Butte Bike Week and Gunnison Car Show weekend.
Along a 31-mile stretch of wide-open vistas and stunning scenery, visitors can explore Gunnison, Almont, Crested Butte and Mt. Crested Butte and connect with the quaint and historic burgs of Pitkin, Gothic, Tin Cup, Marble, Powderhorn and Crystal, also located in Gunnison County. Gunnison and Crested Butte, both founded in 1880, are known for their Victorian-era charm, friendly Western hospitality and free-spirited nature. Almont is a fishing, rafting and rock climbing mecca, and the resort village of Mt. Crested Butte is home to renowned Crested Butte Mountain Resort. Visitors also can explore Curecanti National Recreation Area, home to Colorado's largest body of water, and the nearby Black Canyon of the Gunnison National Park. Gunnison County is part of the West Elk Loop and Silver Thread Scenic & Historic Byways.
Gunnison-Crested Butte is conveniently located in southwestern Colorado, a scenic 4-hour drive from Denver via U.S. Highway 285 or a 3½ hour drive from Colorado Springs on U.S. Highway 50. Air service to the Gunnison-Crested Butte Regional Airport (GUC) for the 2013 summer/fall season is provided by United Airlines with direct flights from Denver (DEN).