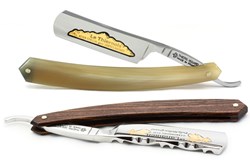 Toronto, Canada (PRWEB) March 28, 2013
Beginning this month, Fendrihan launches an offering of three straight razors from Thiers Issard's Le Canadien product line. Each one of these high-end products is exclusive to Fendrihan, meaning that customers cannot purchase them from other retailers found in either Canada or other countries. Added to the other straight razors in the Le Canadien product line plus those in the Le Thiernois product line, these newly available models increase the total number of Thiers Issard products exclusive to Fendrihan to 20. Each of the 20 designs found in Fendrihan's exclusive product selection caters to a Canadian clientele.
Thiers Issard is a French cutlery manufacturer based in Thiers, a region that has a long tradition of producing knives, razors, and other steel blades. Although each of its products is manufactured using the same techniques, Thiers Issard's approach is to tailor them to suit various targeted areas in the world. As a result, its product lines are marketed to specific countries through chosen retailers based in those locations. For Canada, those product lines are Le Canadien and Le Thiernois. The latest additions to Fendrihan's product selection bear the French manufacturer's recognizable designs, but also include additional elements and details intended to appeal to Canadian customers. Customers interested in purchasing Thiers Issard products outside of their intended markets can also purchase them through these chosen retailers.
The introduction of these three straight razors bolsters Fendrihan's already strong selection of shaving tools and almost all customers can be accommodated. At present, straight razors sold through Fendrihan's online store are eligible to be shipped to their final destination free of charge, so long as those destinations are in either Canada or the United States.
About Fendrihan:
Fendrihan is the premier Canadian online destination for shaving and grooming supplies for men. With a comprehensive product range that includes traditional grooming staples, hard-to-find products from around the globe and some of the most reputed names in gentlemen's personal care, Fendrihan's selection appeals to veteran wet-shavers and men of any age looking to elevate their daily grooming rituals. The Fendrihan catalog also includes fine writing instruments and European leather accessories that offer organization and clever convenience demanded and appreciated by their customers.