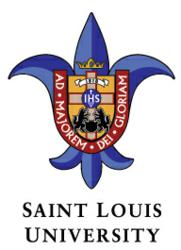 St. Louis, MO (PRWEB) March 27, 2013
The School for Professional Studies at Saint Louis University is now accepting applications for its brand new Computer Information Systems (CIS) program. This innovative program is offered fully online and designed for working adults looking to pursue a career or enhance their skills in information technology.
Students can choose one of four areas of concentration within the CIS:

A Bachelor of Science in CIS is a 45-credit program while the minor or certificate is an 18-hour program. This new program will be offered beginning in Summer 2013. Classes start June 3 and applications are being accepted now.
All classes in the School for Professional Studies are offered in accelerated eight-week sessions and are designed for busy adults with affordable tuition rates as well as convenient, online classes. SLU for Busy Adults gives working professionals the opportunity to earn their degree with flexible online and evening courses. In Saint Louis University's tradition of excellence, the School for Professional Studies caters to nontraditional students so they can pursue Bachelor's and Master's programs from globally-recognized SLU.
For more information about SLU for Busy Adults, visit busyadults.slu.edu or call (314) 977-2330.