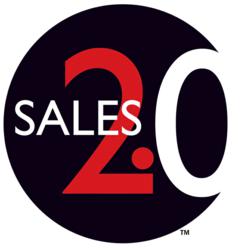 Customers today want to be treated as strategic partners.
Santa Cruz, CA (PRWEB) March 27, 2013
Sales Dot Two Inc. today announced that two Sales 2.0 Conference speakers will address themes related to the customer experience at the upcoming Sales 2.0 Conference on April 8-9 in San Francisco at The Four Seasons Hotel. 
Sales 2.0 Conference organizers say customer relationships are an evolving concern for B2B sales organizations in 2013. In a recent video interview, Sales 2.0 Conference host Gerhard Gschwandtner spoke with Anthony Iannarino, President and Chief Sales Officer at SOLUTIONS Staffing, who identified "a flight to relationships" as a major trend for 2013. 
"For the past couple of decades, everybody has tried to drive price down to treat every sale like it's a commodity," Iannarino tells Gschwandtner. "It turns out it's very difficult to get our clients the results they need when we allow them to under invest. 
Now we're hearing, 'I don't want to be treated like a transaction. I don't want to be treated like I'm a commodity. I want someone to be a strategic partner to understand my business, to work as part of my management team and help us get the results that we need.'" 
Sales 2.0 Conference organizers say that speakers from Cynergy and The Brookside Group, respectively, will reveal insight related to the customer experience on April 8 in San Francisco.
Jason Mowery, Director of Strategy at Cynergy, will present "Verizon's Ignite App: Engaging Your Sales Force Through Motivational Design," on Monday, April 8 from 9:35 am – 10:05 am in the Veranda Ballroom. Mowery has 17 years of experience in the wireless industry, with progressive leadership roles in Training, IT and Marketing. He is well respected for his ability to spot emerging trends, achieve technology integration, improve employee performance, and engage customers.
In his session, Mowery will outline Verizon's "powerful answer" about how retail sales reps can drive sales and improve the customer experience. Attendees will learn how motivational design, actionable feedback, and utilization metrics can help connect reps to each other, results, and customers. 
Tom Cates, Founder & President of The Brookeside Group, will present "Interpreting the "F Word" in Client Relationships," on Monday, April 8 from 3:10 pm – 3:40 pm in the Veranda Ballroom. When a client says everything is fine, Cates believes this is actually a signal that there could be problems you're your customer relationship. In this session, he will explain how to identify relationship problems and prevent them from developing into at-risk accounts.
Cates has extensive experience building patented models to measure customer loyalty; he now uses those models to teach business professionals how to become trusted advisors.
"We look forward to welcoming these two speakers from Cynergy and The Brookeside Group on April 8 in San Francisco at the Sales 2.0 Conference," said host Gerhard Gschwandtner. "These presentations will be highly valuable for any sales leader who wants the very latest knowledge about how to create a winning customer experience."
ABOUT THE SALES 2.0 CONFERENCE
The Sales 2.0 Conference is the number one industry event devoted to excellence in leveraging Sales 2.0 solutions. The Sales 2.0 Conference focuses on the challenges and concerns of B2B sales and marketing executives.
AUDIENCE
Expected attendance is more than 400 people. Job titles represented will include CEOs, VPs of Sales, VPs of Marketing, VPs of Sales Operations, Division Sales Managers, Directors of Sales and/or Marketing, Directors of Sales Operations. Get updates via Twitter at @Sales20Conf #s20c.