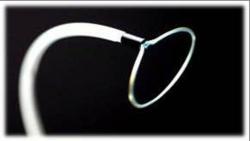 "The population is getting older, so we're going to see more AFIB and we have to have better ways to treat this."
ST. LOUIS (PRWEB) March 27, 2013
It's the most common heart arrhythmia, and it can be deadly. While the symptoms for atrial fibrillation (AFIB) vary, many with this abnormal heart rhythm have one thing in common – a greater chance of having a stroke.
Traditional ways to reduce risks of stroke center on patients taking blood thinner medication for the rest of their lives. Now, a new minimally-invasive procedure at the Washington University and Barnes-Jewish Heart & Vascular Center aims to decrease that risk and the need for patients to be on blood thinning medications. It focuses on a part of the heart called the left atrial appendage.
"It's kind of a little chamber, if you will, or a side door or closet, which is probably the best analogy," says John Lasala, MD, PhD, a Washington University cardiologist and chief of interventional cardiology at Barnes-Jewish Hospital. "However, if you develop this abnormal heart rhythm where blood does not have the ability to wash in and out of there regularly, then the pure stagnation of blood in this chamber could form a clot."
In many cases, people with AFIB are put on blood thinning drugs, such as warfarin (Coumadin), to try and prevent clots from forming. But those drugs can pose potential side effects.
"Clearly with blood thinner medication, should you ever have an operation or get in a motor vehicle accident or have some other traumatic injury, it predisposes you to an extensive bleeding risk," says Dr. Lasala. "So if you can possibly get safely off these medications, it would be a benefit."
The basic premise of the new procedure intends to do exactly that for patients by eliminating the left atrial appendage. It involves simply putting a tie around the outer portion of the appendage, completely cutting of its circulation. And it's all done without ever making an incision with a scalpel or exposing the patient's heart.
"The procedure combines an internal and external approach to the heart," says Phillip Cuculich, MD, a Washington University cardiac electrophysiologist at Barnes-Jewish Hospital. "The internal approach is through a vein in the leg, and a magnet-tipped wire is placed into the appendage. The external approach is from underneath the rib cage, and another magnet-tipped wire is brought near the first. These two wires meet and connect, which provides a rail to guide the lasso-shaped suture."
According to Dr. Lasala, the procedure is expected to last about an hour or less. It requires general anesthesia.
"So you do have to be put to sleep," says Dr. Lasala. "And that's not necessary because there's excessive pain, but because we don't want you to move at all during the procedure itself. Once recovered, most patients can go home the next day or two, unless there are other areas of concern."
Dr. Cuculich has been evaluating outpatients with atrial fibrillation for this procedure. The first was performed in February at Barnes-Jewish Hospital.
"Currently, we are offering this procedure to patients at high-risk for stroke, or have already had a stroke, but cannot tolerate oral anticoagulants, like warfarin," says Dr. Cuculich. "Some patients have had severe bleeding consequences from these drugs and can no longer be protected from a stroke with medicines. These patients are often eager to look for ways to lower their risk of stroke."
The new procedure isn't a treatment for AFIB itself. According to Dr. Cuculich, that's best left to medications to start with.
"When medications fail, then procedures such as a catheter ablation or the surgical Maze procedure or a hybrid AF procedure can be performed, each of which creates 'barriers' in the heart that block abnormal electrical signals," says Dr. Cuculich. "Treating the left atrial appendage is already a part of the Maze and hybrid procedures, but this technology could soon be added on to a catheter ablation as well, offering combined treatment for both symptoms of AFIB and risks of stroke."
"The population is getting older, so we're going to see more AFIB and we have to have better ways to treat this," says Dr. Lasala. "There are few things more devastating than a stroke. We basically are trying to get to the point where we not only can reduce that risk, but also reduce the risk of having to be on drugs that might produce severe bleeding problems, which is something that as you get older also increases in frequency."
The minimally invasive procedure uses the FDA approved LARIAT® Suture Delivery Device, manufactured by SentreHeart Inc.
###
Barnes-Jewish Hospital is a 1,315 bed teaching hospital affiliated with Washington University School of Medicine in St. Louis, Mo. The hospital has a 1,763 member medical staff, with many recognized as "Best Doctors in America." Barnes-Jewish is a member of BJC HealthCare, which provides a full range of health care services through its 13 hospitals and more than 100 health care sites in Missouri and Illinois. Barnes-Jewish Hospital is also consistently ranked as one of America's "Best Hospitals" by U.S. News & World Report.