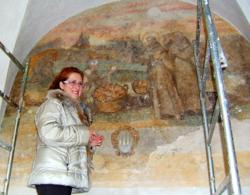 AiP's partnership with Ortolan Studio provides travelers the opportunity to fully immerse themselves in the historic art and architecture of Italy.
Boulder, Colorado (PRWEB) March 28, 2013
Adventures in Preservation (AiP) is now offering hands-on training in decorative painting conservation through an expanded partnership with Ortolan Studios. Trips will begin to Northern Italy in 2014. AiP's partnership with Ortolan Studio provides travelers the opportunity to fully immerse themselves in the historic art and architecture of Italy. Alma Ortolan, who heads Ortolan Studio and is a leading Italian art and fresco conservator, will lead and teach trip participants, the two groups announced.
Participants will join Ms. Ortolan at the cloister in the Monastery of San Giovanni Battista in Serravalle in Vittoria Venito, north of Treviso. The Church of S. Giovanni Battista dates to 1367. The cloister itself was built at the beginning of the 15th century and modified in 1668.
The monastery housed the Minor Franciscan order until 1769. A competition arose between local Orders during this time, motivating competitors to create rich wall paintings and frescoes. These paintings still cover parts of the interior perimeter of the cloister in various stages of disrepair and will be the focus of conservation efforts.
A highlight of the trip will be Ms. Ortolan's one-day class on fresco painting techniques that gives participants a better understanding of the materials they are dealing with. Working with Ms. Ortolan, AiP team members will also examine and document the cloister's twenty interior stone columns.
Alma Ortolan is an Art Conservator and Educator. She studied Painting Conservation in Florence, Rome and Venice, earning a Master's Degree in Fine Art Conservation at the Academy of Fine Arts in Krakow, Poland. Her skills were augmented by studying Conservation of Architectural Façades with ICCROM, and Painting at the Royal Danish Academy of Fine Arts, Copenhagen and the University of Fine Arts in Granada, Spain.
Work completed and information gathered during AiP's 2014 project will enhance work accomplished in 2008 by previous project participants. Adventures in Preservation has sessions scheduled for both 2014 and 2015. For additional information on fresco and wall painting conservation courses, contact Judith Broeker or visit adventuresinpreservation.org.
Adventures in Preservation is a non-profit organization connecting people and preservation through enriching experiential programs that safeguard cultural heritage. One- and two-week hands-on volunteer vacations give participants the opportunity to travel, experience their destination, and learn hands-on skills while saving a valuable historic resource. AiP envisions a world where people use, understand, and appreciate historic buildings that are vital to economic and environmental sustainability. Learn more about how AiP volunteers combine their power with the strength of local communities to make a difference at http://www.adventuresinpreservation.org.
Ortolan Studio opened in 1992 and specializes in the conservation and restoration of art and decorative architectural painting. In 2002, the Ortolan Studio Art Education Program was launched. Project highlights include conservation at the 'La Fenice' Opera House in Venice, in 2003, and in the Catacomb of Priscilla and Santa Tecla in Rome, completed in 2009.