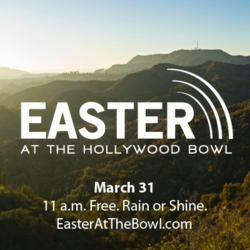 Over 10,000 people from all over Los Angeles are expected to come celebrate Easter together.
Los Angeles, CA (PRWEB) March 27, 2013
March 31, 2013 at 11 a.m.
Hollywood Bowl
2301 North Highland Avenue | Los Angeles, CA 90068
Free. No tickets required. Rain or shine.
After a year's hiatus, Bel Air Presbyterian Church and Christian Assembly Church in Eagle Rock are partnering to renew a 100-year tradition of having an Easter service at the Hollywood Bowl.
Coming from two different denominations, the churches are reaching across the aisle to celebrate Easter with our city. There will be:

a 200+ voice worship choir
professional orchestra
band led by renowned Christian artist, Tommy Walker
guest speaker, best-selling author of Crazy Love, Francis Chan.
Event is free and open to the public. Doors open at 9 a.m. Service starts at 11 a.m. and will last until 12:15 p.m. Picnicking is encouraged and the concession stands will be open.
Join over 10,000 other Angelinos as we gather to celebrate Easter and learn more about an unshakeable hope!
For more information visit: http://www.easteratthebowl.com