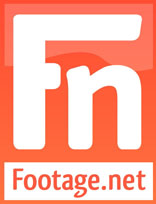 We've made our database available for search through Footage.net for many years. We're excited to enrich that connection by making our clips discoverable by Footage.net's worldwide user base as well
New York, NY (PRWEB) March 27, 2013
Footage.net, the stock, archival and news footage search engine, announced today that preview clips from ABCNEWS VideoSource, the industry-leading stock footage licensing division of ABC News, are now available for viewing through Footage.net's stock footage search and screening platform. Based in New York, VideoSource offers customers, including documentary filmmakers, educators or anyone with an interest in archival video footage, historically-rich news video from a vast collection spanning from 1896 to the present.
In addition to the deep and comprehensive content holdings of ABCNEWS, which are in excess of one million hours, ABCNEWS VideoSource also includes the footage libraries of the Associated Press and British Movietone News, enhancing both its international and historical coverage.
"We've made our database available for search through Footage.net for many years," said Anthony Perrone, Director of ABC News VideoSource. "We're excited to enrich that connection by making our clips discoverable by Footage.net's worldwide user base as well."
"ABCNEWS VideoSource has a well-earned reputation for delivering both outstanding news and historical imagery, as well as world-class customer service," said David Seevers, Footage.net Chief Marketing Officer. "We're very pleased to help them reach a new generation of global footage users. The addition of their clips enhances our stock footage research and screening platform and our users will really benefit from the opportunity to more fully discover this indispensible production resource."
ABCNEWS VideoSource recently launched a new website where clients can conduct advanced searches of video content in key categories, including current events, business, crime, disasters, entertainment, government, health, human rights, scenics, sports, technology, U.S. news, wars and world affairs. Suggested and related searches are also available, and users can preview videos online before purchase. Previously digitized material can be licensed and delivered for use in minutes on VideoSource's updated website.
Footage.net has grown rapidly over the last several years to become one of the world's largest and most comprehensive online stock footage databases. ABCNEWS VideoSource clips will be available for screening through Footage.net alongside motion content from some of the world's most prestigious footage companies, including Getty Images, FootageBank, Framepool, and CNN ImageSource.
About Footage.net
Footage.net is the world's premier online resource for stock footage research. Since 1994, Footage.net has focused on meeting the needs of both footage users and footage providers. Today, Footage.net remains committed to helping users find the best footage as quickly and easily as possible; generating new leads and licensing opportunities for our member archives; and strengthening the footage licensing industry as a whole. Our dedicated search engine makes it easy for creative professionals to search 40 world-class footage collections simultaneously and view over two million clips, many of which are available for download. Our Global Search partners include some of the best-known companies in the stock footage industry, including Getty Images, FootageBank, Framepool, Historic Films and ABCNEWS VideoSource, as well as some exciting new specialist collections, such as Skyworks, Critical Past and OceanFootage. Footage.net is also home to the Zap Email, used every day by creative professionals to send footage requests instantly to over 50 top footage providers. Whether they're up against a deadline or searching for an obscure clip, creative professionals rely on Zap Emails to initiate their footage research projects, providing our Zap subscribers with a steady stream of new leads.
About ABC News
ABC News delivers a big picture understanding of the world to empower and inspire viewers to make confident decisions for themselves and their families. More people get their news from ABC News than from any other source. ABC News is responsible for all of the ABC Television Network's news programming on a variety of platforms: television, radio, and the Internet. With an average television and radio audience of 180 million people in a given month, ABC News surpasses the competition. More than 2,400 affiliate stations broadcast ABC News Radio's global news coverage. In addition, ABC News NOW is a 24-hour news and information network currently available to 44 million users across cable, broadband, and mobile platforms. NewsOne, the affiliate news service of ABC News, provides live and packaged news, sports, and weather reports, as well as footage of news events, to 200 ABC affiliates and more than 30 domestic and international clients.