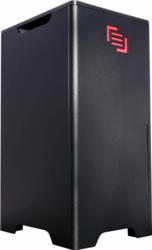 "The MAINGEAR Potenza Super Stock proves that affordable and powerful are two words that go together...
Kenilworth, NJ (PRWEB) March 27, 2013
MAINGEAR, known for their award-winning custom desktops, laptops, and workstations now offers their mighty MAINGEAR Potenza Super Stock gaming desktop to the masses across Microsoft retail stores nationwide.
The MAINGEAR Potenza Super Stock is a small yet versatile gaming PC that takes advantage of the latest hardware and unique chassis design that will have any pc gamer looking at the Potenza with excitement. The Potenza Super Stock sports an NVIDIA GeForce GTX 660 graphics card with 2 GB of dedicated memory that is factory overclocked for maximum performance and supports features for 3D technology for realistic object interaction and explosions in games. This system comes with 16 GB of memory, an Intel® Core™ i7-3770 processor with Turbo Boost up to 3.90 GHz and offers 1TB hard drive space with a 30GB SSD for caching which significantly speeds up boot up time, application or game level loading, and greatly enhances overall system responsiveness. The Potenza also offers great connectivity with 4 USB 3.0, 6 USB 2.0, HDMI, and DVI ports.
Like MAINGEAR's other VRTX (vertical exhaust) technology-enabled systems such as the SHIFT and F131, the Potenza chassis utilizes a unique chassis design where the motherboard is rotated 90 degrees to exhaust hot air out the top of the chassis. Cool air is easily brought in from the bottom, making for a quieter, more reliable, and simply better performing PC.
The Potenza has a small footprint and can fit anywhere, measuring 14.75 x 7.5 x 9.25 inches (height x width x depth), making it versatile enough for positioning on, in, or under a desk. It's also designed with easily removable side panels, allowing for quick access to for switching out and upgrading internal components.
MAINGEAR Potenza Super Stock Specifications (Microsoft Retail Sku)

Processor: Intel® Core™ i7-3770, 3.40 GHz with Turbo Boost Technology up to 3.90 GHz
Memory: 16 GB DDR3 1600 MHz
Hard Drive: 1 TB HDD 7200 RPM + 30 GB SSD for caching
Operation System: Windows 8PC TYPE | Desktop
Optical Drive: 8x speed (Read/Write) for DVD+/-R & DVD+RW, 6x speed for DVD
Audio: High Definition 24-bit 192Khz surround sound
Video: NVIDIA GeForce GTX 660 with 2 GB graphics memory
Ports: 4 USB 3.0 • 6 USB 2.0 • HDMI • Display Port: P/S2 • S/PDIF • 2 DVI • Headphone output • Line-out • 2 Microphone input • Line-in • RJ-45 (10/100/1000)
Dimensions: 14.75 x 7.50 x 9.25 in (374.65 x 190.50 x 234.95 mm)WEIGHT | 15.00 lbs
Color: Black
Price: $1,599
"The MAINGEAR Potenza Super Stock proves that affordable and powerful are two words that go together when talking about gaming PCs. Rounding out the whole package is the size and look of this stylish compact powerhouse that still runs all the latest titles on the market. We are proud to offer this innovative product at Microsoft retail stores nationwide." – Alex Cook, General Manager, Worldwide Merchandising, Microsoft Retail Stores.
"Maingear shows that they know how to coax power and performance out of a gaming machine no matter what the size or price." Said, Brent McCray, Worldwide Enthusiast Marketing Manager of Intel. "The Maingear Potenza Super Stock showcases the raw power of the 3rd Generation Intel Core i7 Processor clocked up to 3.9Ghz, in an elegant SFF enclosure that can tear through any of the latest titles with ease and not put a dent in your bank account."
"PC gamers are always dreaming of having the best gaming experience and MAINGEAR's Potenza Super Stock delivers in performance and design," said Scott Herkelman, general manager of the GeForce business unit at NVIDIA. ""The NVIDIA GeForce GTX 660 GPU in the Potenza offers fast and fluid gaming in the latest DirectX 11 and NVIDIA PhysX-enabled games for a great immersive experience."
The MAINGEAR Potenza Super Stock can be found in all 30+ stores nationwide and can be found online at http://www.microsoftstores.com and is supported in the US for one year including parts and labor.
Learn more at: http://www.maingear.com/microsoftstores
Potenza Video: http://youtu.be/Rxm6ccb_K4g
About MAINGEAR
MAINGEAR is an innovative high performance PC system builder that offers custom desktops, custom notebooks, pc workstations, all in one computers and media centers. Each PC is hand crafted for precision performance and uncompromised quality, and has won multiple Editors' Choice awards from publications such as Hot Hardware, PC World, Maximum PC, Computer Shopper and more. With a passion to build the best high performance computers, MAINGEAR will continue to set the standard among custom pc builders. MAINGEAR's expert team custom builds and supports all products in the United States. For more information visit: http://www.maingear.com/