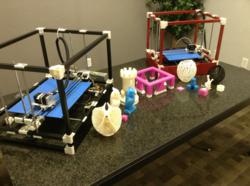 Springville, UT (PRWEB) March 27, 2013
Invent-A-Part, Inc is excited to announce the RigidBot 3D printer scheduled to launch on Kickstarter Tuesday, March 26, 2013. The RigidBot 3D Printer is an easy to use consumer friendly 3D printer engineered for everyday user at an affordable price.
See the RigidBot 3D printer on Kickstarter by clicking here.
What is 3D Printing
3D printing is an exciting technology where an engineer, artist, student or designer can "print" plastic objects right from the comfort of your own home. Imagine building a part with a hot glue gun. The RigidBot 3D printer melts plastic and pushes it through a small tip, like an automatic glue gun, and grows your design layer by layer from the bottom up.
Michael Lundwall, VP Engineering, said, "Companies looking for ways to save money on their research and development or individuals looking for a way to see their concepts come to life, will find that we have created a very competitive 3D printer. It is something that is finally affordable for the work place, home or school."
Available in two different sizes, the RigidBot can print parts 10" x 10" x 10" and the RigidBot Big can build parts up to 12" x 16" x 10".
Invent-A-Part, Inc is among leading rapid prototyping companies specializing in high quality FDM ( Fused Deposition Modeling ) and PolyJet rapid prototyping services. Whatever your rapid prototyping needs are, Invent-A-Part will be able to quickly produce your parts.
Invent-A-Part, Inc provides the tools for a fast, easy and affordable rapid prototype.