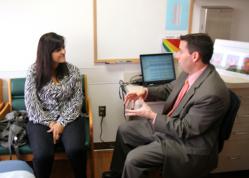 I knew it was the best treatment for my situation. I trusted Dr. Scharf and his team.
LOMA LINDA, CA (PRWEB) March 27, 2013
Loma Linda University Medical Center (LLUMC) has become the first medical facility in the Inland Empire and one of the first academic medical centers in California to perform an exciting and new innovative procedure for Bariatric Surgery.
The Overstitch device is a minimally invasive, endoscopic suturing system that can be used to repair or treat conditions in the stomach or bowel as a revisional procedure after weight loss surgery. The procedure is done endoscopically, requiring no incisions or overnight hospital stay.
Keith Scharf, D.O., the director of bariatric surgery, and his partner, Marcos Michelotti, M.D., assistant professor of surgery at LLUMC, recently performed the first procedure using the Overstitch system at LLU Heart & Surgical Hospital. Dr. Scharf described this as innovative "because the Overstitch is done through an endoscopic suturing system. There is no incision and no scarring, resulting in a shorter hospital stay and less chance for infection," he said. "Patients who undergo this treatment can not only go home the same day, but they can typically return to normal daily activity as well. It's a win-win."
Drs. Scharf and Michelotti utilized the Overstitch device on 39-year-old Nadith Ruvalcaba to perform an endoscopic closure of a chronic gastric fistula (a leak in her stomach) that occurred from a previous weight loss surgery she had at another facility. Before the procedure at LLUMC she was not able to eat normally, was fed intravenously and was unable to lead a normal life due to ongoing bouts with illness, surgeries, and ongoing hospitalizations. She had also undergone two previous open surgeries to try and repair her chronic gastric leak before Dr. Scharf had seen her.
Ruvalcaba, a San Bernardino resident, knew she would be the first patient to receive treatment via the Overstitch system but did not hesitate to have it done. "I knew it was the best treatment for my situation," she said. "I trusted Dr. Scharf and his team."
The procedure, which was accomplished without any incisions, took one-and-a-half hours to perform in the operating room. She was discharged home the same day. Follow up radiological studies showed her fistula was successfully closed. Before this new procedure, a patient would likely require a laparoscopic or possible open surgery to fix a leak and could require up to a week or more in the hospital.
"Testing showed the leak was successfully repaired," Ms. Ruvalcaba said at a follow up appointment on Wednesday, March 20. "I am so happy Dr. Scharf and his team were able to help me. It was the whole group—nurses, office staff, just everybody—who gave me a happy ending. My entire family is extremely grateful"
Ms. Ruvalcaba is off of her intravenous nutrition and doing well with a modified diet. According to Dr. Scharf, she should be fully recovered and on a normal diet within four weeks.
For more information on the Overstitch system, visit http://www.apolloendo.com. If you think you may be a candidate for treatment please call 909-558-2822.
Photo Caption: Dr. Keith Scharf updates his patient, 39-year-old Nadith Ruvalcaba, on her progress since undergoing closure of her chronic gastric fistula using the new Overstitch Endoscopic Suturing System at a follow up appointment on Wednesday, March 20.
###