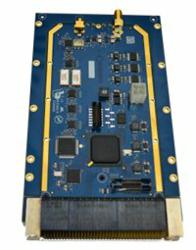 Customers from very different sectors were interested on the live-demo and on the SoC-e integration on a Zynq device
(PRWEB) March 28, 2013
SoC-e and Xilinx presented the new cutting-edge solutions for Reliable Ethernet using the Zynq Extensible Platform at the Embedded World Exhibition that took place in Nuremberg (Germany) between February 26th and 28th. With the presentation of this new product, SoC-e becomes the first company to perform a live demonstration of a PTP-aware HSR / PRP switch built on Zynq.
Zero-delay recovery time and no-frame loss are the key features of the HSR and PRP protocols defined in the IEC 62439-3 clauses 4 and 5, both standards met by this SoC-e solution.
SoC-e HSR/PRP Switch IP Core, now available for seamless integration in Zynq, implements both Parallel Redundancy Protocol (PRP) and High-availability Seamless Redundancy (HSR) protocols in the same IP (Intellectual Property) Core. Thanks to SoC-e frames switching architecture, the forwarding latency times for HSR mode is lower that 3µs enabling Real Time control operations.
PRP is a network communication protocol standardized by the International Electrotechnical Commission that allows data to overcome any single network failure without affecting the data transmission. It can be applied to most Industrial Ethernet (Real-Time Ethernet) since it is independent of the protocols and provides seamless failover.
HSR (High-availability Seamless Redundancy) as PRP, offers zero-delay recovery time but is focused on Ethernet Ring network topologies. It is suited for applications that demand high availability and very short reaction time like, Electric Substations Automation and Train Communications.
The HSR/PRP Switch IP also includes IEEE 1588 Transparent Clock functionalities, in order to allow large networks with sub-microsecond synchronization mechanisms based on PTP. This high-precision synchronization mechanism is gaining acceptance in many sectors like Industrial Automation, Smart Grids and Power Electronics, Digital Video Broadcasting and Mobile Backhaul Routers.
When IP Cores are implemented on the programmable logic of Zynq, the interlink port can communicate directly with the ARM9 CPU. This allows for the operating system running on the ARM9 processor embedded on the Zynq to implement redundancy in a completely transparent fashion.
Having made the transition to this new platform will lead to a significant advantage for SoC-e customers. According to Mikel Idirin, General Manager at SoC-e, "the interest on HSR, PRP and PTP protocols at Embedded World Exhibition exceeded all the expectations. Customers from very different sectors were interested on the live-demo and on the integration on a Zynq device."