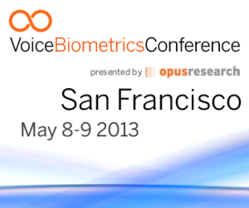 "AT VBC-SF, technology innovators, security experts and customer care professionals define the future of simple, secure authentication for mobile commerce, contact centers and consumer electronics."
San Francisco, CA (PRWEB) March 27, 2013
Opus Research is assembling a roster of top-notch presenters to describe how voice biometric technologies help fill the need for fast, easy and strong user authentication. Financial institutions, mobile carriers, consumer electronics manufacturers and government agencies are already putting the technologies to task to support the most convenient way to establish trustworthy links between individuals and the resources they use everyday.
Voice Biometrics Conference San Francisco (May 8-9, #VBCSF) will begin with a keynote address from FIDO Alliance president and Paypal CISO Michael Barrett showing how a new authentication approach advocated by the FIDO Alliance ("Fast ID Online") will open up a wide variety of application possibilities by simplifying authentication processes while actually reducing the possibility of fraud. No need to rely on passwords when there's an open framework for authenticating individuals with a minimum of effort.
Voice Biometrics Conference San Francisco is the industry's premier global event highlighting the latest developments and deployments to promote security and personalization for consumer electronics and mobile devices, as well as e-commerce oriented contact centers. Among the session topics:

Global financial services provider Barclays using passive authentication in contact centers
Turkish wireless carrier Avea registering more than 1.3 million voiceprints for customer verification
Members of the FIDO Alliance discuss moving beyond passwords to strong authentication
Where voice biometrics fits in multi-factor authentication and multi-modal enterprise strategies
How voice authentication is embedded in mobile, smart home, connected car and consumer electronic devices
"More and more of everyday life is now mobile," explains Dan Miller, conference chair and founder of Opus Research. "Application developers, device makers and service providers need to know how multi-factor authentication, including voice, work together to promote fast, easy and strong user authentication."
VBC San Francisco is the only global gathering for IT and information security executives, customer experience professionals, contact center managers, system integrators, fraud preventions specialists and mobile and consumer electronics device makers to understand firsthand the future of secure, mobile interactions and transactions.
The expanding list of sponsors for VBC San Francisco includes: Nuance, IBM, NICE Systems, VoiceVault, Agnitio, Voxeo, SpeechPro, VoiceTrust, Sestek, Sensory, TRUSTID, Victrio and Pindrop Security.
Voice Biometrics Conference will be held at the Fairmont San Francisco, May 8-9, 2013. Venue and up-to-date program information is available here.
About Opus Research
Founded in 1985, Opus Research is the leading industry analyst firm focusing on Conversational Commerce and the Mobile Internet technologies and markets. In addition to convening the conferences, Opus Research's experts publish reports and conduct custom consulting on automated speech processing, natural language understanding and customer care, offered through hosted and premises-based contact centers.
About Voice Biometrics Conference
Opus Research convened the first Voice Biometrics Conference in Washington, DC, in 2007, and has held subsequent gatherings in London, New York City, Amsterdam, Jersey City and Singapore. VBC provides a single venue for attendees to get the most recent information on the state of the technology, experience the latest applications and solutions and meet solution providers and integrators.